Metal Countertop Magazine Holders Organizes Take-Away Literature & Educates Customers
---
Wire Countertop Magazine Racks Dispense Periodicals in Office Lobbies and Retail Stores
Are you looking for a way to organize stacks of journals, brochures, and printed marketing materials in your place of business? Metal countertop magazine holders are a top choice for many for retail stores and commercial sales locations due to their durability. Each stand is built with quality constructed materials to last in fast-paced environments. Our metal countertop magazine holders come in a variety of styles including single-pocket, multi-pocket, and rotating displays. Tabletop options for storing reading materials are specifically designed to hold multiple periodicals and journals, giving customers more choices and increasing marketing potential. Metal countertop magazine holders provide customers with take-away information such as leaflets and newsletters to ensure potential clients remember their brands.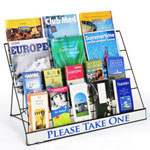 What is the advantage of a wire tabletop literature rack?
Metal countertop magazine holders are crafted from long-lasting material, so typical wear & tear at retail or office locations is no match. Each pocket features a sturdy yet unobtrusive design that keeps printed material accessible yet protected while on display.
The minimalist wire construction allows onlookers to clearly see the presented reading materials. This way, no one has to guess at what pamphlet or catalog is inside each multi-tiered rack.
Countertop magazine holders, especially these wire frame models, are incredibly cost effective in comparison to wall-mounted or floorstanding options. Each unit offers a high ROI by professionally providing marketing material to customers at a low cost.
There is a use for countertop magazine holders in any industry from trade shows to doctors offices and more. Retail outlets, especially bookstores and convenience stores, that sell reading materials are able to take full advantage of the racks. Use multi-pocketed or rotating literature racks to display product catalogs, medical information, and take-away flyers. This way, customers are able to browse their favorite titles, check out the latest articles, or stay up-to-date with your product line. Each tabletop magazine holder provides ample storage for various forms of printed marketing material. Most units feature multiple pockets to diversify your presentations, and some even rotate to make browsing simple.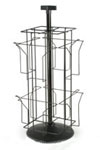 What are the different finishes available for these wire magazine holders?
A modern black finish is perhaps the most popular because the color blends effectively with just about any backdrop. Trade show vendors, retail stores, visitor centers, and professional offices all love the rich black color.
Silver and chrome finishes offer a fresh look that shimmers under the lights, capturing customers' attention. If your business could use a touch of modern flair with an upscale feel, consider the silver units.
White finished catalog holders blend well with retail store fixtures and are a common choice for those in the sales industry. The light-tone of these fixtures matches most existing store shelving, so it's simple to lock-and-load this unit with material and let it inform your customers from day-one.
There are all kinds of upscale literature holders that can accelerate your organization's brand awareness. Providing take-away material for your customers to bring home creates a better informed client base and boost engagement. No matter the style, orientation, or placement, we have a large selection of printed media displays to choose from. No matter your industry, be it a grocery store, doctors office, or carnival, having the right tools to educate your customer base is essential.