Cardboard Countertop Magazine Holders for 8.5" x 11" Letter Size Flyers
---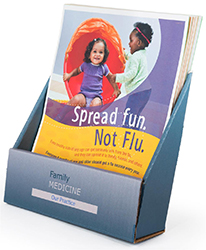 Cardboard Countertop Holders for Magazines, Catalogs, and Periodicals
Want bulk catalog displays at an affordable price? These cardboard countertop magazine holders have an economical design that's great for promotion on event booths and store counters. The simple literature pockets can fold flat for easy transportation and storage. Each corrugated cardboard countertop magazine holder is easily unfolded with the included instructions. The final result is a slant back catalog slot that supports stacks of print media. Our cardboard countertop magazine holders are offered at such a low price point that they can be recycled after use.
How else do can these affordable tabletop catalog displays help businesses?
Cardboard countertop magazine holders with custom printing are excellent for bringing attention to your brand. These catalog pockets are imprinted in full color to feature any company's logo.
Printed with a digital UV process, these countertop magazine holders will feature artwork and messaging with high detail. This style of imprinting dries ink with ultraviolet light before it can spread and distort the image.
The countertop magazine holders are printed on all sides except for the interior of the pocket. This is ideal for attracting attention to your logo no matter what angle passersby see your displays.
Want more affordable corrugated displays with custom printing? Browse personalized cardboard displays including dump bins, floor standing magazine holders, and furniture with full color imprinting. These economical fixtures with custom printing are great for building brand presence at a low price. Displays2go's bulk pricing is excellent for widespread marketing campaigns to reach large audiences.