Cubicle Name Plate Hangers Fit Over Standard Partition Walls
---
Acrylic Name Plate Holders Promote Consistency Throughout Office Environments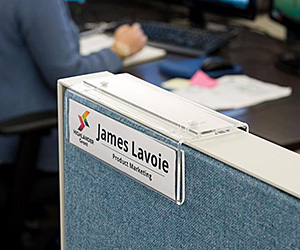 Designating employee workstations doesn't have to be difficult. Our cubicle name plate hangers make it easy thanks to their over-the-cube designs. We stock these clear acrylic sign holders in a number of sizes depending on the width of your partition walls. Each cubicle name plate hanger comes with an open slot for inserting your printed employee cards. Their standardized design provides consistency and better overall organization. Office workers and visitors alike will appreciate this simplified wayfinding solution!
Why should you choose cubicle name plate hangers?
The office signs are manufactured from clear acrylic plastic. The shapes are heat-formed, producing smooth and safe corners.
Because the nameplate hangers fit over the tops of partition walls, they offer convenient flexibility. Simply slide the frame where needed for the best legibility.
You can say goodbye to cubicle wall damage. There is nothing to screw, attach, or adhere to mar the surface — especially true in the case of pricey fabric partitions.
Employees come and go. Office managers and HR departments usually get tasked with adding or changing the nameplate. Thanks to the simple, open design, the process is quick and painless.
Depending on the model, there are single and double-sided styles available. There are hangers designed to fit .5", 1", 1.5", and 2" thick cubicle walls. For thicknesses greater than 2", we recommend choosing the adjustable sign holder (shown in the image at right). This hanger can accommodate walls sized between 2" and 3.5".
In addition to assigning employee workstations, these hangers can also be used for designating other areas. In some open office environments, meeting tables and secluded desks are defined by panel dividers. Labeling these public spaces using our cubicle hangers further promotes wayfinding consistency. Partitions also help organize paperwork. Our hanging file holders hook over panel walls, offering convenient storage space for forms, charts, and reports — in single and multi-pocket styles!