Power Charging Accessories for Wireless Devices Including iOS and Android Phones
---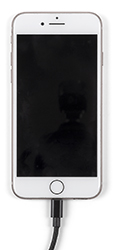 Charging Accessories to Power Samsung, Google, and Apple Devices
Need to power your mobile devices with durable, reliable, and affordable cables? Our power charging accessories accommodate a variety of phones, tablets, speakers, and headphones. We offer Apple Lightning, micro-USB, and USB-C cords to charge most common electronics. These power charging accessories include more than just cables — our branded portable batteries, heavy-duty power stations, and wireless recharging Bluetooth speakers make great corporate gifts in a world where everyone has a smartphone. It's important to keep electronics powered in offices, restaurants, convention halls, medical facilities, and kiosks with these tools. Rugged portable battery stations keep phones and GPS topped up on camping trips and at outdoor job sites. Choose our power charging accessories to keep trade show exhibitors' devices powered on the road or just to keep workers' phones charged at their desks.
Why choose our charge cables for wireless devices?
Durability — These power charging accessory cords are made with braided nylon to protect them from damage. This polymer covering increases the adapters' durability, making them ideal for travel and long lasting use. Braided nylon prevents knotting and creates an easy-grip texture.
Reliability — Our Apple Lightning charging accessories are MFi certified to charge iPhones, iPads, and AirPods. What does this mean? MFi (Made For iPhone/iPod/iPad) certification ensures that cables will safely recharge Apple devices. Knockoff cables may cause damage to iPhones and iPads and will show a warning message to users. These MFi certified adapters have authentication chips that make them ideal for electronics with Apple Lightning ports.
Affordability — The Micro-USB, USB-C, and iPhone recharging cords come in packs of three or five. This is excellent for powering phones by the computer, in the car, or at a power strip with Universal Serial Bus ports (USB). These recharging cables are sold with wholesale pricing to accommodate businesses that need large quantities of adapters. Outfit employees with the chargers they need to keep their equipment charged.
What are our other charging accessories?
Our branded portable chargers make excellent giveaways at trade shows and company events. These convenient batteries ensure that your smartphone has energy even when you're on the go. Feature your corporate logo on the case to build loyalty and give event attendees something to remember you by. These modern gifts are ideal for today's audiences!
Portable power station batteries keep your essential devices charged up on camping trips, excursions into the woods, and other activities that take you far from civilization. These heavy-duty packs are vital for staying connected in the outdoors, helping you make sure your phone, laptop, or work equipment is powered up and ready to go.
We also offer custom printed Bluetooth speakers that double as wireless recharging pads. These two-in-one solutions will surprise and delight recipients while featuring your logo in full color. These affordably priced speakers with built-in wireless recharging will make you and your brand stand out!
Give out personalized travel adapters for international travelers that need to keep their various electronics charged. These custom printed accessories have four USB ports each and can draw energy from outlets in the USA, EU, UK, and Australia. Our travel adapters can be a lifesaver to trade show attendees and valued employees!
Our smartphone and tablet accessories are often have a few USB ports to accommodate devices. For fixtures with more capacity, check out our public charge stations, available as floor stands, countertop shelving, and wall mounts. These include secure lockers as well as wireless recharging tables to keep everyone connected in the digital age.