Countertop Literature Holders Organize Promotional Materials in Clear Acrylic Pockets
Shop Countertop Literature Holders by Type
Folded Brochures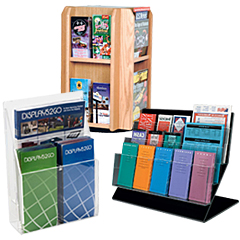 Adjustable Pockets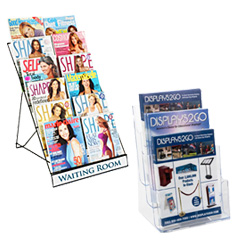 Full-Size Magazines
---
Shop Countertop Literature Holders by Feature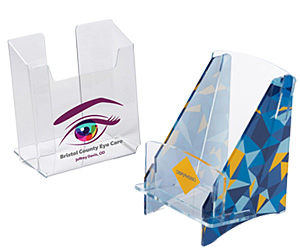 Custom Printed
Tiered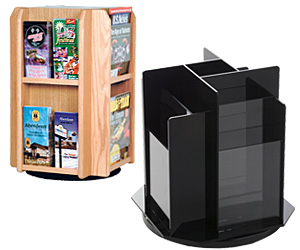 Revolving
Upscale/Designer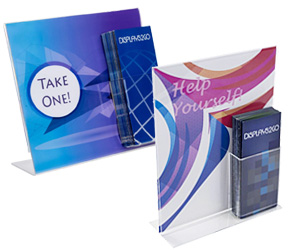 w/ Sign Holders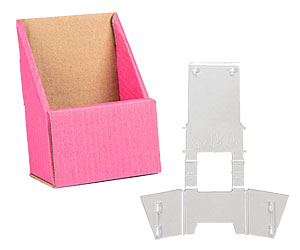 Ships Flat
Newspaper Holders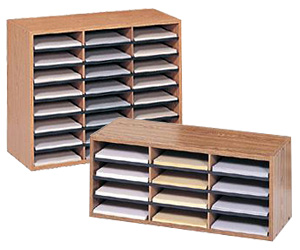 File Sorters
We're sorry, but no items matched your search query.
---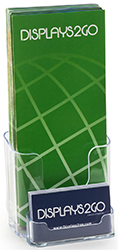 Countertop Holders for Pamphlets, Catalogs, and Other Promotional Literature
Want to feature leaflets on desks and tables? Our countertop literature holders are excellent for featuring large quantities of promotional materials in small spaces. These single and multi-pocket stands can accommodate 4" wide brochures as well as 8.5" x 11" trade magazines. Countertop literature holders are often used on reception desks to give visitors info in the lobby. Their compact design makes them highly portable, ideal for placement on event booths. Choose countertop literature holders to promote printed marketing campaigns, no matter the location.
What tabletop leaflet rack options do we offer?
Most of our countertop literature holders have a single pocket design that focuses on a single stack of periodicals. This is great for companies that are have one type of leaflet to dispense. Our multi-tiered brochure and magazine organizers with multiple pockets feature several campaigns at once. This style of booklet display is also great for representing different businesses in a shared building lobby. We also offer models with business card pockets — browse our dedicated contact info dispensers to display credentials in bulk.
Tabletop literature holders with custom printing increase brand awareness with your personalized graphics. Our high quality digital printing process creates detailed artwork in full color. The printer dries the ink quickly with UV light before it can spread, resulting in sharp, high resolution images. Custom printed leaflet dispensers are available in a variety of styles, from simple logo imprinting to full exterior graphics.
Desktop literature holders with adjustable pockets can accommodate both pamphlets and catalogs. Insert the included plastic divider into a 8.5" wide slot and it becomes two shelves for 4" wide brochures. Adjustable booklet pockets are ideal for companies with diversified print campaigns. Easily fit different media sizes in the same place with these accommodating designs.
Rotating magazine and brochure holders hold more takeaways in one place. These 3 and 4-sided catalog spinners are excellent for featuring more prints on tabletops. Visitors can simply spin the wood or acrylic organizers to find what interests them.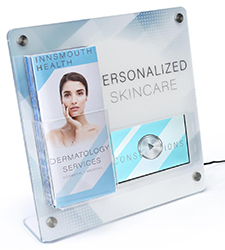 Our booklet holders are offered in a wide variety of designs to meet companies' promotional needs. We also make organizers in a number of fabrications and finishes to match different décor and branding aesthetics.
What types of materials are these brochure displays made of?
Plastic magazine organizers feature economical designs and shiny finishes. Browse sleek black shelving or clear acrylic models that combine a modern presentation with high visibility.
Wooden brochure displays create a traditional presentation for messaging. This style is ideal for legal firms, banks, and doctor's offices where this upscale appearance fits right in. Find light, medium, and dark wood finishes to match your surroundings.
Metal catalog fixtures include units made of steel and aluminum. Sturdy desktop shelving features pockets made of wire or steel mesh with black and silver finishes.
Tabletop pamphlet fixtures are an ideal solution to advertising products and services. These compact marketing tools direct periodical covers to eye level to increase visibility. Their small fabrication and affordable price means that they're ideal for bulk purchases. It's easy to outfit entire franchises with these wholesale leaflet organizers.