1/8" Thick Peg Displays for Keychains, Blister Packs, or Magnets
---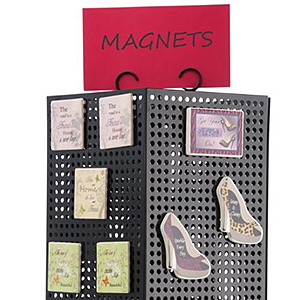 Metal Pegboard Merchandising Fixtures with Customizable Hooks
What's the best way to offer small items within an efficient footprint? 1/8" thick peg displays are popular sales tools for retailers of all kinds. Thanks to the four-sided designs and flexible layout abilities, their spinning action is irresistible to those who love to browse. These 1/8" thick peg displays come in both countertop and floor models in black or white finishes. An ample variety of hook lengths provide store owners with the perfect solution based on their needs. Designed for displaying magnets, blister packs, keychains, and other small merchandise, these metal pegboards offer excellent value for the money. In addition, the 1/8" thick peg displays are manufactured from rugged steel, affording years of service inside your shop or store.
What do these pegboard spinners have to offer?
1/8" thick peg displays are thinner than traditional hardboard styles. The panels are made from sheet metal and finished with black or white powder-coating. As a result, they require specialized hooks that are designed only for these particular fixtures.
Each panel features holes spaced every .5" (unlike the 1" spacing on hardboard models). This added flexibility provides more options when designing your own custom layout.
We offer peg displays for floors or counter applications. The easy spinning action entices shoppers to your merchandise which explains why pegboards are so popular in souvenir shops. The fixtures and hooks are available for sale separately but we do offer a couple of bundled solutions that come with both.
Hooks come in lengths ranging from 4" to 12" in matching finishes. For something different, we also offer these hanging accessories in polished chrome if you feel like adding a little shine to your display.
All fixtures come with optional sign clips on top for displaying labels or pricing.
While these peg displays are designed for use with hooks, most of our customers actually use them for selling magnets. Since they don't require hanging accessories and are just stuck to the steel surface, magnets can use 100% of the entire panel surface for maximum coverage. However, these models are intended for smaller spaces. Looking for bigger styles with much more storage capacities? Gondolas and wall mounted pegboard panels can accommodate a lot more merchandise and weight.