Custom Sign Displays Include Your Personalized Graphics for One-Stop Shopping
---
Save Time and Money by Ordering Sign Displays Bundled with Graphics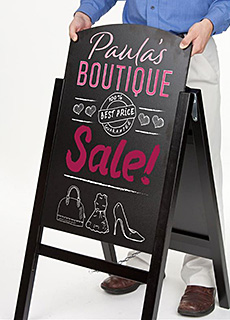 Personalized printed signage comes in many forms, including banner vinyl, SEG fabric, and rigid boards, to name but a few. In many cases, these prints will require something to hold or frame them. Custom sign displays are just that — framing or fixtures that showcase your printed graphics for marketing and advertising. Displays2go offers floor standing, countertop, and wall mounted signage bundles for retailers and business owners. Our custom sign displays feature fast print lead times with quick shipping. The real advantage of ordering prints with the fixture is the one-stop shop convenience. No placing a poster order at a local printer, then going online to find an applicable sandwich board. By purchasing the two components together, a perfect fit is guaranteed. These custom sign displays include outdoor A-frames, retractable banner stands, wall light boxes, and more!
What kinds of printed retail signage are available?
Custom sign displays designed for countertops include counter mats. These are usually placed near the cash register at time of customer checkout. Consisting of a PVC sleeve that displays printed inserts, the mats offer an easy way to display ads or plug a new product. The sleeve's design makes it easy to swap out the graphic for a new one when the ad campaign is over. Table tents, from card stock standees to deluxe wooden stands, are used by the bar and restaurant industries. Place a tent on every table in your establishment to help increase drink orders and/or seasonal food specials.
Floor stands come in a few versions. Interior-only models make great advertisers at store entrances or in mallways. Passersby inevitably see these free-standing signs (placed strategically for maximum exposure). Floor stands in high-polish, clear acrylic make a visual statement, ideal for an auto dealer or chic boutique. Sign displays with SEG (silicone edge graphics) offer a softer look thanks to the stretch-fit polyester fabric. If purchasing one of these floor stands, remember that replacement graphics are always available. Exterior-rated sidewalk signage advertises where others can't. Able to withstand wet conditions, these outdoor fixtures are available in classic-A-frame styles, metal swingers, and frames with fillable bases that combat windy conditions.
Banner stands are event mainstays, used for trade shows, career expos, fairs, and festivals. We offer a wide selection of widths and all feature retractable base designs. We'll print your custom graphic on 13 oz. blackout vinyl and ship the stand with the banner already installed. Portability is the key here since they almost always need to be transported to where a temporary event is held.
Wall displays also come in SEG fabric models. However, these differ from their floor standing cousins because they feature interior illumination. Called light boxes, these vivid sign displays provide an eye-catching presentation for retail applications. Lit by internal LED strips, the wall frames illuminate every square inch of the fabric with soft, glowing light. We also have an entire line of printed acrylic signage that mounts with stainless steel standoffs. Your custom graphics are printed onto the clear panel's second surface (meaning on the reverse). This not only provides a blemish-free presentation, but the technique also helps protect the printed ink from dirt and fingerprints. Many sizes are offered — smaller styles make great plaques for designating offices or directional wayfinding. Large-scale panels are better suited for attention-getting graphics or colorful art prints. Mount one of our big acrylic displays behind a reception desk for professional-looking corporate identity signage.
High-resolution image reproduction is available in a number of commercial printing techniques. From dye sublimation to UV-cured inks, we can print on fabric, vinyl, acrylic, coroplast, foam core, adhesive decals, and window clings. The point to remember is, if you've purchased one of these bundled solutions, come back and reorder replacement graphics from Displays2go. This way you can rest assured your new printed sign will be a perfect match to your existing frame or fixture. On the other hand, just need a custom signboard or paper poster? Shop sign printing by material for high-impact graphics without a stock display.