Stand Up Banners Feature Custom Branded Graphics for Marketing & Advertising
---
Pull Up Banners are the Exhibition Stands Most People Buy for Trade Shows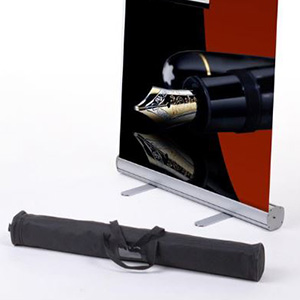 When it comes to deciding on a custom graphic for a public event, one fixture always comes out on top. Stand up banners are the most popular type of trade show display and are a must-have industry standard. Retractable pull up banners solve the problem of showcasing large format graphics in a small and portable format. Since exhibitions and expos are almost always a traveling destination, lightweight stand up banners take the pain out of transporting your marketing materials. The metal bases not only store your vinyl graphic, but they also protect the print during travel. Our branded pull up banners are very popular, and each comes with your custom printed artwork already installed for instant gratification right out of the box!
What makes these retractable exhibition stands so affordable?
Our stand up banners offer competitive pricing with most models under $200. That's a lot of marketing value packed into such a small price tag! Considering the fact that retractable stands can be reused and/or updated with replacement graphics, makes these advertising tools even more appealing.
The process of getting custom pull up banner is simple as can be. We use 13 oz. super smooth white blockout vinyl for all our graphics. At time of purchase, upload your custom artwork and we will generate an electronic proof for approval before printing. Then we'll install your banner inside the retractable base using double-stick tape. If you intend to replace the graphic with a new print, follow the instructional video detailing the procedure on each product page.
The metal bases feature slim, lightweight designs. Pivoting feet swing out for extra stability once the sign is raised to its full height. Extend the support pole and connect it to the top banner rail and into the hole in the base to complete the assembly.
Since portability is paramount, convenient carrying bags are included.
Retractable exhibition displays communicate to potential customers or clients through the use of colorful and attention-grabbing graphics. In addition to trade show applications, these marketing tools are useful for virtually any advertising task. With only 3 seconds necessary to make an impression, business owners know how critical it is to convey call-to-action messages and promotional images instantly. Is there any other accessory exhibitors can include to stand out from the crowd? Banner stand lights clip onto the top rail, showcasing your business in the best possible light!