Roll Up Banner Stands with Personalized Replacement Graphics
---
Deluxe Roll Up Banner Stands for Portable Custom Printed Vinyl Signage
Are you looking for a promotional centerpiece to your trade show or exhibit display? Choose roll up banner stands while deciding on which custom graphics solution will have the most impact on your customers. Our single and double sided personalized vinyl advertisement displays give you the most bang for your buck by attracting passersby walking in both directions. To really make an impression, consider large pull up banners, with widths greater than 47". These retractable roll up banner stands have replaceable graphics, perfect for adapting to the messaging needs of a specific event or showroom. With a compact yet bold design, these promotional fixtures feature a telescoping pole, wide curved base, and a padded carrying case for hassle-free transportation. Our deluxe roll up banner stands excel in both indoor and outdoor environments, and many customers place multiple stands beside one another to form a custom advertisement wall.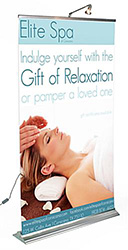 What makes these first-class pull up banner signs so effective?
Our roll up banner stands feature custom digital printing with replaceable graphics. Keep the frame, but update your brand messaging between events, for special promotions, and to maintain an ever-fresh look while on the trade show circuit. Graphics are held firm to the frame with either hook and loop technology or a replaceable cartridge for effortless interchanges. Pull up banner printing is simple; upload your artwork, and we'll print and install it before shipping out to you!
Our banner stands have aluminum base includes levelers to maintain stability, even in high-traffic areas where show-goers may brush past. Simply extend the telescoping pole and attach it to both the base and top of your replaceable custom graphic for best results.
These banner stands are rated for indoor as well as outdoor use, which limits the amount of additional signage your business will have to purchase. Simply choose a deluxe custom graphic with aluminum base from Displays2go and you will be ready for any season!
Each unit is incredibly lightweight in comparison to competitor's products and comes with a padded carrying case. Protect your high-value advertising stands while transporting them between events without having to worry about back-breaking or cumbersome heavy lifting. Our custom marketing displays break down and roll up in minutes for optimal portability between events.
Pull up banner frames clearly communicate your brand's message, mission, and motive before the customer even says hello. A great custom advertisement is the the most effective introduction, and will attract passersby with bold colors and a demanding presence. So, make sure that critical first impression is one that will leave potential customers talking about your business with a personalized banner stand. Browse our selection of interior booth displays to help seal the deal and earn yourself some new clientele for years to come.