Countertop Retail Displays with Screen - Shelving, Literature Holders, and Ballot Boxes
---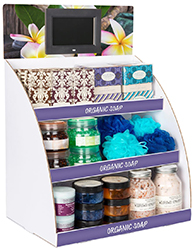 Video Screen Merchandising Displays for Retail Countertops
Do you want to promote your products and services with dynamic media? Our countertop retail displays with screen are excellent for retail stores, commercial events, and even fundraisers. We offer digital merchandise shelving, literature holders, and ballot boxes that show your message. Using these countertop retail displays with screen, especially when placed on a tabletop, is great for attracting attention from passersby. When placed at eye level, compelling video and audio presentations are hard to miss, even at busy trade shows. Choose a countertop retail display with screen to give customers and visitors more reasons to check out your products and services.
What types of digital tabletop fixtures do we offer and how can they be used?
Countertop retail displays with screen are ideal for merchandising. What better way to inform customers about new product lines? Feature an informational advertisement or a peaceful, ambient video above your merchandising — people will quickly notice the moving images and turn their attention to the wares underneath. Fully personalize your digital shelving with custom printed graphics in full color.
Our countertop retail displays with literature pockets create an excellent way to advertise services, especially the ones that need some explanation. Banks can promote their financing programs, doctor's offices can educate patients about new treatments, and trade show exhibitors can reach out to passersby at events. Feature brochures and magazines besides informational videos to get the word out as effectively as possible.
Ballot boxes with LCD panels are another great electronic signage solution. It's easy to showcase charitable causes and who donations will benefit. These digital boxes can also be used for collecting votes, suggestions, and business cards. Getting passersby and visitors to participate is easy with these attention getting tools for fundraisers and community events.
It's time to update your promotional game with dynamic countertop retail displays. In a time when flat panels and LED billboards are everywhere, it's important to match the competition with LCD advertising. Create your own videos and slideshows or feature official content provided by big brands. Video and audio presentations like these really stand out to customers in busy marketing environments.
Want to add a level of interactivity to your promotional campaign? Our floor standing touchscreen kiosks are excellent for digital product catalogs, restaurant menus, and company portfolios. Getting customers to interact directly with your marketing materials boosts engagement. Even better, these interactive fixtures can serve visitors' needs in the place of employees. Browse hundreds of electronic signage solutions on Displays2go.com.