Digital Signage Counter Displays - Remotely Update In-Store Advertisements
---
Digital Displays Promote Audio, Images, and Video Advertisement Signage on Counters
Are you looking for a multimedia player capable of updating its content wirelessly from the back office or throughout the day to suit promotional needs? Our digital signage counter displays present electronic material be it advertisements, entertainment, or photographs of past memories. Captivate your guests by displaying JPEG & PNG formatted images, video, and audio to support your business. These digital signage counter displays feature an LCD screen to present promotional slide shows, marketing material, and audible messaging. An electronic album can find a home in any industry, and many of our customers use them in restaurants, at trade shows, in retail locations, or even at home! The benefit of using digital signage counter displays is that the user can update imagery remotely, but each unit also includes a hub capable of supporting 4 USB ports. Electronic marketing tools are an eye-catching method of advertising that adds little dash of pizzazz, especially as a point-of-purchase fixture.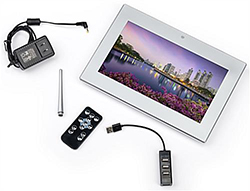 What are some special features that make these multimedia players so effective?
Each digital signage counter display features a 10.1" LCD screen to present vibrant multimedia content through prolonged business hours. This monitor perfectly nestles itself atop reception desks, beside cash registers, and on exhibit booths in a space-saving yet high-value package.
Update fresh content to your electronic signage counter displays wirelessly from the back office to keep up-to-date with promotions or special events. Each unit includes an extended 4-port USB connector to plug-n-play functionality as well. Upload MP3 music files, JPEG & PNG images in 1024x600 resolution, and video to give your customers an engaging audio and visual experience.
Our signage counter displays come with the Android 4.4 Operating System pre-installed and access to the Google Play Store if you would like to download additional Apps. Each system includes an exclusive Displays2go slideshow app built to get your business' presentation up and running even if you have limited technological knowledge.
Each signage counter display includes 4GB of internal storage, enough to hold a substantial library of advertisement material to be accessed at-will. These units support both USB and SDHC memory cards for your convenience, and can be updated wirelessly from your office computer.
Take advantage of dynamic electronic marketing counter displays such as a multimedia players to give customers a more memorable presentation. With advertisement tools baked in, these LCD monitors are a valuable addition to any store or exhibits point of purchase presentation. Our elctronic counter displays are adaptable in that they can be placed on the wall or any countertop, ensuring audio and visual promotions are always where customers will see them most. Usher in a new age of digital merchandising displays and signage with Displays2go to give your business a competitive advantage. Advertisement displays with electronic screens garner more immediate attention than static signage and is adaptable through year-round promotion cycles. Shop Displays2go for all of your marketing and advertisement needs.