Glow Chairs with 16-Color Changing LED Lighting Options
---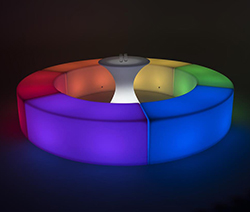 Glow Seating Including LED Chairs, Benches, and Bar Stools
Want to create a stylish lounge area that customers will remember? Our glow chairs feature a modern appeal that looks great in bars, event venues, and hotels. In dark environments, these indoor/outdoor seats will stand out and fill the area with colored light. The colorful LED glow chairs are great for getting people's attention, attracting passersby to your restaurant or trade show booth, and creating a photo op. Their soft, ambient light is great for creating a welcoming atmosphere for patrons and customers. These trendy glow chairs are excellent for building a modern image for your business, whether you're serving drinks, treating clients, or just lounging.
Why choose this illuminated seating for your dining area or lounge?
Our glow chairs match any space with their color changing LED lights. This is a great way to customize your lounge with a fully personalized palette. The illuminated benches and stools don't have to be a static color — the furniture can cycle through shades for a beautiful, entrancing display. The seating's soft light is excellent for these color changing modes, creating a dazzling presentation, rather than an eyesore.
These LED chairs are easy to operate, making them great for both indoor and outdoor areas. Place the wireless illuminated seat anywhere, there are no power cords to worry about when they're in use. Each unit has a rechargeable battery that provides for 10 to 12 hours of illumination. Use the included remote to control the colors, brightness levels, and dynamic lighting modes.
The lighted chairs are made of waterproof polyethylene, making them impervious to inclement weather and spills. This frosted plastic features rounded edges yet it's resistant to scratches. Polyethylene is the ideal material for this illuminated furniture because it's translucent, strong, yet lightweight enough to move with ease.
Our LED seating has different styles to cater to different venues' tastes. We offer both straight and curved designs, such as our square and circular stools. Choose benches or table sets that match your space needs to create the perfect dining area for your restaurant, bar, or office lounge.
This lighted seating is a great way to bring a modern touch to your event venue, office, or convention hall. Create ambiance with the right color and brightness settings to match the mood. Add to events like banquets with our trendy LED furniture that's sure to kick things off. Whether it's a nightclub, trade show lounge, or a wedding, our seats with lights are excellent for adding to the environment.