Mid-Century Modern TV Stands Feature Tripod and Sawhorse Easel Designs
---
Artistic TV Stands Evoke the Timeless Style of Classic Mid-Century Design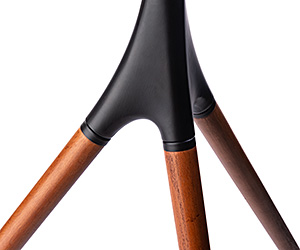 When it comes to choosing a stand or mount for your TV, "sophistication" isn't the word that immediately comes to mind. If your interior environment demands it, what are your options? Mid-century modern TV stands offer game-changing design for discerning buyers. This is especially true if your flat screen monitor is intended to be the focus of attention within the space it occupies. Whether this is in a residential living room or a commercial art studio, aesthetics matter. Mid-century modern TV stands fill this void with the artistic styling evocative of vintage postwar design. Juxtaposing clean lines with fluid, organic shapes, the movement offered futuristic furniture that wasn't a total departure from what had come before it. Our mid-century modern TV stand collection offers a simple easel mount and nothing else. This is a deliberate shift from bulkier furnishings like consoles or credenzas.
What are the finer details of these studio TV stands?
Mid-century design's purpose is to elevate the mundane with stylish form following function. Something as simple as an easel to support a flat screen monitor gets the full treatment. The artistic TV stands are manufactured with two materials: steel and wood. The walnut-stained legs are elegantly tapered and finished with black rubber floor protectors. The rugged steel mount is designed to be compatible with VESA mount hole patterns 200x200 through 600x400. The slide-on pole bracket with snap-lock assembly makes attaching your screen incredibly easy.
We offer two styles of freestanding easels to choose from. The tripod provides a classic look with three evenly spaced legs. These make a smooth and fabulous transition up into the metal upright, which offers 180&deg of swiveling movement. The sawhorse is designed for larger and heavier screens (hence the four legs).
Such a minimalistic design creates challenges when it comes to cord management. To accomplish this, there are cord clips located on the back of the rear-most legs. Simply pass the power cord through the holes and secure in place for best effect. An optional anti-tip cable is also included which attaches from the rear of your TV to the wall.
Contemporary interiors in studios, modern offices, hotels, even trade show booths can benefit from these bold furnishings. Why? Good design shouldn't just be beautiful and efficient — it should be affordable. And it's something that resonates with forward-thinking individuals. Unlike other movements stuck in time, the mid-cent-mod style reminds us of the past while forging a path of limitless possibilities ahead. Wondering what other styles we have to offer? Displays2go sells hundreds of different mounts and brackets for displaying monitors. TV stands with shelves and bases offer designs featuring predominantly all-black finishes.