Tensabarrier Sign Holders - Frame and Clip Style Stanchion Toppers
---
Sign Holders and Frame Accessories for Tensabarrier® Stanchions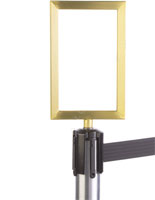 Need to send a message to your customers while they wait in line? These Tensabarrier sign holders prominently display advertisements and wayfinding plaques atop your stanchions. Sometimes it's just not clear exactly what a queue line is for. In especially busy areas, it can be tough for customers to navigate their way through even the most efficient crowd control system. Clear up the confusion with post-top Tensabarrier sign holders! Designed to fit on your existing stanchions, these frames help direct visitors to the right line when placed in a prominent position. Increase revenue by placing advertisements for new products or promotions at checkout — right where customers are most likely to see them. Clip-style and steel frame Tensabarrier sign holders are available in a variety of colors and finishes to perfectly match your interior decor.
What styles are available?
Full frame — a steel border surrounds your signage for a traditional look. This option adds a noticeable pop of color to your stanchions, especially with bolder hues like red, blue, and brass. This sign holder swivels 360° for viewing at any angle. Simply insert advertisements and wayfinding messages into the top opening and easily swap out when needed.
Clip-style — a simple bracket grips signage from beneath for an unobtrusive look. The frameless design makes advertisements and wayfinding messages the true stars of the show, completely removing any distraction from what you're trying to say. Choose from several colors to match or accent your stanchions. Each bracket rotates completely for total positioning freedom.
Whichever style you choose, clear, straightforward signage is the surefire way to get visitors to pay attention. High-contrast pre-printed inserts for post-top stanchion frames take all the guesswork out of crafting an effective message. Solid black acrylic backgrounds bear messages like "Line Forms Here" and "This Section Closed" printed in stark white help to ensure that guests see and follow the flow of your crowd control system.