Stanchion Toppers Increase Impulse Buys at Checkout
---
Stanchion Sets with Dump Bins and Literature Holders
Looking to sell a few extra on-the-go-items at checkout? These stanchion toppers put your impulse buys, literature, and magazines right in front of your customers as they wait. The checkout line is an often under-utilized part of any retail store. Normally serving to keep the buying process running smoothly, this fixture concentrates shoppers in a single location, making it the ideal place to sell those last-minute must-haves. Stanchion toppers with dump bins fulfill this need beautifully. Clear bowls let customers see everything you have to offer while the included sign holder lets you advertise pricing and sales. By simply increasing visibility, you can make an impact on engagement. These sign frame stanchion toppers with holders expand the benefit of regular signage by making items available right below.
What kind of post and accessory sets do we offer?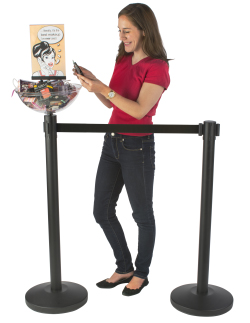 Acrylic Bowls with Signs — great for increasing sales of those "can't forget" items at checkout. Anything small and relatively low-dollar-value can easily entice customers to add onto their purchase. The sign holder helps to grab attention and can seal the deal by advertising a great price or limited time sale.
Mesh Magazine Pockets with Signs — if you don't have the space for a traditional magazine rack near checkout, this accessory is a great alternative. Provide free publications for customers to browse while waiting or put the latest issues out for a quick purchase. Call attention to your offerings with the included sign frame.
Literature Holders — let your customers browse all of the products and services you provide while they wait in line. Great for brochures and magazines, this acrylic pocket features an adjustable divider so you can always keep something fresh and interesting stocked, no matter the size. Banks and specialty stores that offer services customers may not know about use these fixtures to keep their clientele informed.
If you have a particularly small store, sacrificing all that floor space for crowd control can be a major blow to your merchandising options. Reclaim it with some stanchion accessory sets designed to maximize customer engagement. Do you already have a queue line setup? Add some functionality with accessories and sign frames for QueuePole.Economy posts. Save money by purchasing just the add-ons and expand the capabilities of your crowd control arrangement with items like hand sanitizer dispensers and writing tables.