Fabric Tube Frame Barriers Feature Full-Color Printing for Branding & Advertising
---
Stretch-Fabric Tube Barriers Help Set The Scene at Trade Shows, Premieres, and Other Events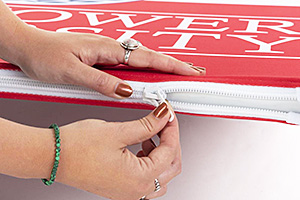 Effective indoor crowd control doesn't have to be boring. Fabric tube frame barriers add custom-printed branding to the overall presentation. Unlike with plain stanchions, you have the ability to show the public who you are with full-color logos or graphics. Fabric tube frame barriers are also very lightweight, which makes them perfect for setting up at temporary events. Set the scene inside your trade show booth, display school spirit at your university, or advertise sponsors at indoor sporting events. Our fabric tube frame barriers are the affordable choice for branded signage! Purchase a single panel or buy multiple units to place side-by-side for a colorful and compelling crowd control line.
What makes these custom-printed barricades so easy to use?
Fabric tube frame barriers are available in two sizes and manufactured from extruded aluminum. The tubular sections come with labels located at each end for instant recognition. Thanks to the push-button design, the connections click together for quick and easy assembly without tools.
Each tube frame features dye-sublimated printing onto single or double-sided stretch-fit polyester cloth. This permanent, high-resolution process reproduces your graphics in all their full-color glory. The material can also be machine washed if needed. Each panel is sewn into a seamless sleeve with a zipper on the bottom. Simply feed the fabric over the tube frame and zip it closed for a smooth and wrinkle-free presentation.
Because the stands are so lightweight, transporting them is an easy task. Each panel is dismantled and packed in a carry bag for convenience. However, these temporary displays are rated for interior use only. Looking for a more rugged version that can be left outdoors? Custom cafe sidewalk barriers can handle the elements. These feature premium exterior banner vinyl which is suspended between steel stanchion posts. Commonly seen outside eating establishments along the sidewalk, they provide a pleasant boundary separating patrons from passersby.