Electric Trash Cans Offer Hands-Free Hygienic Waste Management
---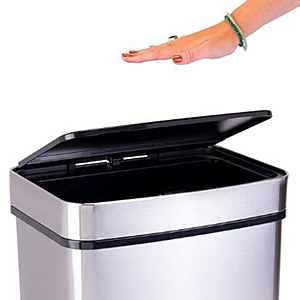 Touchless Garbage Bins Help Maintain Sanitary Working Conditions
Reducing the spread of germs is high on everyone's list. Electric trash cans come with the ability to do just that. Featuring hands-free operation, the garbage receptacles employ motion sensor activation. With a wave of a hand (or object), our electric trash can lid opens up and closes (softly) after five seconds. The touchless design makes these wastebaskets perfectly suitable for doctor/dentist offices, restrooms, schools, labs, and other private businesses. Battery-operated electric trash cans continue the line of defense against germs by bypassing the need for touching the container.
What are the main features of these hands-free waste receptacles?
Our electric trash cans require (6) AA batteries for motion-sensor operation. New cells will last approximately 3 months if the lid opens and closes around 20 times per day. However, the top cover can also be opened manually.
The bins feature a brushed stainless steel finish for a contemporary, sleek appearance. The surface is specially formulated to be fingerprint and smudge resistant.
Our trash cans offer multiple ways to organize. Choose from single 16-gallon containers to models featuring a bottom drawer — great for recyclables!
Taking preventative measures (especially during the cold and flu season) against harmful bacteria is tough in public environments. Utilizing touchless waste receptacles can go a long way towards controlling illnesses in both offices and schools. Reducing contact is key. When this is not always preventable, there are other ways to increase awareness about spreading germs. Disinfectant hand sanitizers provide convenient hygiene when a restroom isn't close by. Handy countertop, wall mount, and floor standing dispensers make excellent companions to our motion sensor garbage bins.