Tabletop Sign Sleeves — Affordable Clear Plastic Holders Up to 8.5 x 11 Media Size
---
Sign Holder Sleeves with Easel Backs for Countertop Use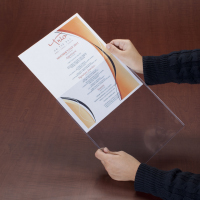 Are you looking for affordable, yet durable protectors for your custom printed materials? These tabletop sign sleeves are a lower-cost alternative to pricier hard acrylic or mold injected options. Neatly display restaurant menus, advertise your services, or provide helpful information to visitors behind the clear, flexible plastic cover. These standing tabletop sign sleeves use an easel back to stay upright, emphasizing your graphics and making them easy to read. Some models use an optional peel-and-stick adhesive support, letting you choose how you'd like to display your message. Are you regularly swapping out menus and graphics? Thanks to their easy slide-in/slide-out design, these tabletop sign sleeves make quick changes a breeze.
What sizes do these countertop poster holders come in?
4" x 6" — This option is excellent for areas with limited space like cafes and bakeries. The small size is perfect for bar-top drink menus and daily specials.
5" x 7" — Place an expanded view of your offerings in this slightly larger size. While still an ideal fit for a small table or countertop, this sleeve's extra room allows you to call out more items or print larger for greater effect.
8" x 10" — This size is ideal for both dinner menus and advertisements. Create bold promotional posters that capture the attention of your guests, and place them right where they're most likely to be seen.
8.5" x 11" — This standard media size can be printed easily by most home printers. If you're changing out menus or ads weekly or even daily, this presents an incredible cost-saving opportunity.
By placing your printed materials inside a protective plastic jacket, you can ensure that they are kept safe from spills, wrinkling, and other types of damage. Paper menus and notices can quickly become unreadable, especially in the hospitality industry. Sign sleeves protect your graphics from rips, bends, and water damage, ensuring that they stay legible for as long as you need them. The frameless, no-frills design won't compete with your message, either. Printing off new posters every time one gets wrecked adds considerable cost over time. By keeping your menus and advertisements in low-cost plastic sleeves, you can stay under budget in the long run. Looking for wall-mounting options? Check out these similarly-affordable plastic poster covers that attach to windows and other flat surfaces.