Ceiling Hanging Poster Displays with Rigid Frames
We're sorry, but no items matched your search query.
---
Ceiling Mounted Frames for Commercial Signage and Posters
Are you looking for a quality overhead signage holder to present promotions, advertisements, and menu options to your customers? Our ceiling hanging poster displays have found a home in eat-in restaurants, storefront windows, major shopping centers, and movie theaters alike. Use these signage systems to display directional graphics in major convention centers and airports, or promotional material in busy shopping centers. These ceiling hanging poster displays save our customers valuable wall space by placing graphics overhead and double as eye-catching fixtures for any patron walking below. We offer stationary frames with aluminum extrusions to suit your varying needs. Our ceiling hanging poster displays feature snap-open designs, which makes swapping out graphics on the fly a simple, time-saving measure. These signage systems also include a protective non-glare lense to protect valuable graphics in hig-traffic areas.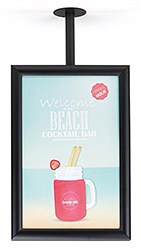 Why do our customers choose these hanging sign frames?
Our ceiling hanging poster displays come in a variety of sizes including; 11" x 17", 24" x 36", 28" x 22", 30" x 40", and 36" x 24" models. This collection of sign frames is versatile, ensuring that we carry a fixture suitable to house your own large or small format custom graphics. Choose between brushed silver and black designs to match your particular interior decorations.
Each hanging poster displays includes all hardware necessary to install with ease. Mounting brackets are designed to accomodate standard or drop ceilings. All frames come with an anti-glare protective plastic lens, which safeguards your custom graphics from damage during regular daily use.
Hanging promotional and wayfinding materials are a surefire way to capture the attention of your guests by placing imagery in eye-catching, overhead locations. Increase advertisement exposure or place directories in easily visable locations overhead. This selection provides flexibility with marketing content, allowing signage to no longer be restricted to the walls alone. Each poster display system is durably constructed with aluminum and steel, ensuring a lasting life in high-traffic environments. These frames are a tried and true staple for business owners in any industry and offers an incredible return on investment due to low-cost high-impact marketing. For a large selection of wall, hanging, and free-standing displays, browse our advertising poster holders to accomodate your organization's needs. Displays2go carries everything a company could search for including custom printed signage, merchandising racks, trade show supplies, and more!