Interactive Whiteboards - Digital Flip Charts
---
Multi-Touch Interactive Whiteboards & Digital Flip Charts for the Classroom or Office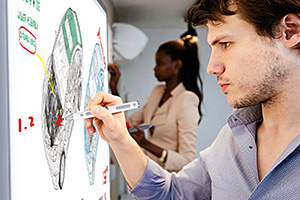 If your school or business is looking for a collaborative tool to elevate the quality of presentations and boost engagement, our digital whiteboards are designed to create an immersive visual and writing experience for both presenters and audiences alike. Digital flipcharts feature a suite of connectivity options, including touch-out functionality that allows teams to sync their personal devices to share content in real-time and easy export tools to distribute notes via email, USB drives, or printouts, internet access, and more. Our digital-ink interactive whiteboards promote multi-user collaboration for increased project management efficiency, report engagement, lesson and event planning, or executing daily workflow meetings.
With an intuitive pen-to-paper feel, these smart displays make brainstorming and notetaking as smooth and natural as jotting ideas down on a napkin, but with deep multimedia and editing features to push your creativity even further. All of our interactive flipcharts and digital whiteboards offer a simple plug-and-play setup, with a high-quality interactive display. Choose between wall-mounted models for permanent fixtures or lightweight, mobile devices featuring locking wheels for easy transport between rooms. Take advantage of this added mobility to utilize advanced lesson plans & high-tech tools across multiple classrooms or departments.
Where can interactive whiteboards and digital flip charts provide collaborative experiences?
Special Needs Learning
University Lecture Halls
Libraries
Office Spaces
Conference Rooms
Common Areas & Cafés
STEM Classrooms
Co-Working & Makerspaces
Conference & Event Facilities
...and more!
Touch-enabled smartboards and digital flip charts help you level up your engagement with students or peers. By utilizing hands-on, visual tools outside of traditional textbook learning, schools can utilize new-age lesson plans and incorporate slideshows, images, and videos into their classrooms with ease. Interactive touch boards mount directly to the wall for single-classroom use, while digital flip charts are easily relocated where demand is needed. Collaboration and innovation have never been more accessible thanks to digital whiteboards and interactive flip charts. Browse Displays2go for modern tools to equip your education or business environment and hold more engaging presentations.