Gaming Tables for Playing Video Games, Working and Studying
---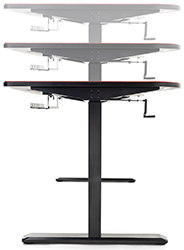 PC Gaming Desks and Tables for Bedrooms and Home Offices
Looking for the ideal desk for studying, working and playing video games? Our gaming tables are great for creating a comfortable computer area in home offices and bedrooms. These stylish desks are great for creating a workstation, being able to fit a desktop or laptop, monitor, keyboard, mouse pad and other electronic accessories. These PC gaming tables have a large area for the computer components and peripherals you need for the ideal battle station. Alternatively, they're excellent for working and studying because of their stable, ergonomic design that makes it easy to get stuff done, whether it's for work or leisure. Choose an adjustable gaming desk for your new workstation for an increase in productivity or a better experience for PC gamers.
Why are these computer desks great for gamers?
Each professional quality gaming table has cable management holes to make it easy to organize your computer setups. This lets you keep the desk against the wall while keeping power cords out of the way. If you prefer to keep your PC tower on the floor, this is a great solution for keeping it connected to your keyboard, mouse, and monitor on the desktop surface.
These computer workstation tables have ergonomic designs, with an inset front area that gives the user extra space when using their PC. This gives more room to use your mouse or type on the keyboard without bumping into the desktop surface. There's plenty of leg room as well, even if you want to relax with a footrest.
Our computer tables can be adjusted to create a comfortable workstations or battle station. We offer models with adjustable floor levelers to fine-tune the height for the ideal playing or working experience. Or model with a detachable crank makes it easy to find the right position for your room or specific posture.
These adjustable PC desks are excellent for creating a functional workstation or a space for playing computer games. Their design is made to fit into home offices and bedrooms, where they can sit flush against a wall while allowing power cords to pass through. Whether you're creating a productive workspace or a comfortable space for playing PC games, pair our gamer-style computer chairs with these desks for adjustable seating with armrests, lumbar support and tilt adjustment for long sessions. All furniture on Displays2go.com is offered with fast shipping and wholesale pricing to furnish rooms quickly and under budget.