Dressing Room Frames Create Private Changing Areas in Pop-Up Stores and Event Booths
---
Portable Frames Create Dressing Rooms for Customers at Trade Shows and Pop-Up Shops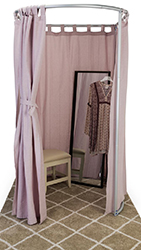 Want to give customers a chance to try on clothing at events and temporary locations? These dressing room frames are ideal for creating private changing areas anywhere. Our portable retail fixtures are made for easy transportation and storage. Dressing room frames are great for pop-up store operators because they can go wherever you set up shop. Trade show exhibitors use these to show off their apparel at events while giving visitors a chance to try it on. Choose portable dressing room frames to let everyone wear your newest clothing lines no matter where you go.
How else can these changing area fixtures be used?
Use a dressing room frame to create a private area for medical examination by setting up one of these fixtures. Each frame can fit a nurse and a patient, providing enough space for procedures like swab tests and measuring blood pressure.
These portable privacy screens can form enclosed workstations, allowing workers to focus in crowded locales. For example, they can be used by exhibitors at trade shows to privately log contact information from attendees.
Create a photo booth at events like office parties and promotional product launches. Combine these with our selfie stations to take pictures, share contact information, and stay in touch.
What makes these folding changing areas an excellent choice for traveling businesses? Each dressing room frame features semicircular aluminum rods that support a curtain (not included). These pieces are easy to assemble and break down with their metal push pin design. Simply line up the rods, connect them and fasten them with the spring-loaded connectors. The portable changing room frames also include a travel bag that makes it easy to pack, transport, and unload. Both our floor standing and wall mounted fixtures can be taken to crowded events and grand openings. Find more flash retailing fixtures with our page for pop-up store displays, featuring portable shelving, racks and frames.