Stanchion and Signage Bundles for Social Distancing and Curbside Pickup
---
Curated Kits to Guide Social Distancing and Facilitate Curbside Pickup at Your Business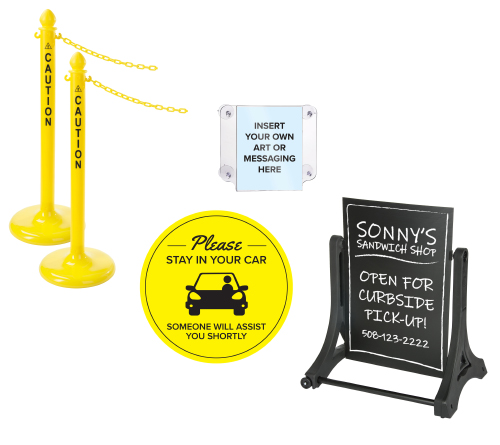 Are you looking to quickly transition your restaurant or store to comply with public health guidelines? These stanchion and signage bundles come packed with the essentials to get you up and running in short order. Allowing customers to maintain safe physical distance from employees and one another is simply a reality for the time being. With these stanchion and signage bundles, you can make sure that you're doing the best you can do boost business with informative messaging and provide a contactless experience with standing barriers. With their bright, vibrant coloration, these kit components are tough to miss. This is especially important when setting up a curbside pickup system, as keeping patrons in their cars, and directing them with highly-visible messaging, is the whole idea. With some cleverly placed stanchion and signage bundles, you can get the word out about your business being open and ready for the new normal.
What comes pre-packaged in these social distancing kits?
Two indoor/outdoor safety stanchions — painted bright yellow, these chain-and-post barriers guide customers around aisles and into proper physical distancing paths and configurations. "CAUTION" is printed in stark contrast to drive the idea home with increased importance.
Indoor/outdoor vinyl floor decals — emblazoned with messaging directed toward either social distancing or curbside pickup instructions, these durable stickers create extra coverage for enforcing new rules and guidelines. The low-tack adhesive allows you to move and reuse these decals multiple times.
Standing signs — either as a pair of coroplast-printed graphics or a chalkboard-style swinging board depending on your choice of kit, these messaging tools help inform your customers.
Insert-your-own sign holders — either wall mount or countertop, these frames support 8.5" x 11" media. Swap out your graphics often to keep up with new regulations, call out fresh products and services, or just offer a few words of solidarity.
These stanchion bundles are just one way we're helping you navigate the changing business climate. Check out our coronavirus safety supplies for more fixtures and solutions designed to help you keep on serving your community during these uncertain times.