COVID-19 Business Signage for Takeout, Mobile Order Pickup, and Social Distancing
---
Pre-Printed Graphics for Reopening and Operating Within Public Health Guidelines
Is your store or restaurant planning to return under new rules and regulations imposed by the coronavirus? Our COVID-19 business signage provides essential messaging to help you get back to it quickly and easily. Outdoor hanging vinyl banners are great for letting regular customers know that you're open again after a short absence, or that you've changed up your operating procedure. If you have moved a curbside pickup-only model, our COVID-19 business signage includes cone-shaped holders for you parking lot to guide guests to their order retrieval area. Of course, with social distancing guidelines still in place, indoor/outdoor posters and stanchion attachments made from corrugated plastic remind visitors to maintain the proper amount of space while waiting in line, as well. A-frame sidewalk COVID-19 business signage is a great tool to keep steady foot traffic in the warmer months, as more people start getting out and about. Browse our selection to find a variety of pre-printed graphic solutions including vinyl hanging and roll up banners, sturdy coroplast stanchion and wall notices, window clings, shaped and cut posters, bollard covers, and more!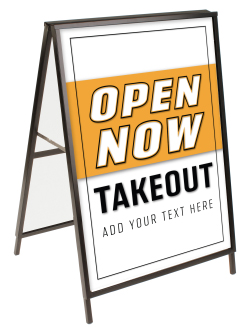 What kinds of messaging are available on this business signage?
Social distancing — Remind customers to follow public health and safety guidelines by staying at least 6 feet apart. Reopening means adjusting to new regulations and maintaining proper space to reduce the spread of disease is among the most crucial.
Safety messages — Whether it's a handwashing reminder or quarantine area alert, keeping guests secure should be an absolute priority as you begin to let them back into your store or restaurant.
Now open — What's more important than announcing that you're ready to start your daily operation again? Banners, sidewalk notices, and more ensure that your message is heard loud and clear!
Curbside/mobile order pickup — Maybe reopening means altering your service model. If you can't let patrons back inside, they can still support you with contactless ordering. These graphics announce your continued model of takeout only, instruct visitors to wait in their car, or guide customers to the designated curbside or mobile order pickup areas.
Line starts here — Keeping shoppers properly distanced can mean changes to the layout of your store. Make sure that they know where to begin queuing for checkout with this highly-visible messaging.
Shop local — It's more important than ever to support your neighborhood economy! Let your community know that their money is helping to strengthen business in their city or state.
When you reopen, make sure you have everything you need to keep customers safe and stay on top of health and safety guidelines. To ensure that guests are well-informed, pick up some vinyl adhesive floor decals with social distancing graphics in bright, vibrant colors. These helpful tools offer a variety of ways to maintain proper space within your business.