Portable Spotlights for Display Cases Allow Pinpoint Highlighting
---
Small LED Spotlights for Use in Display Cases, Showcases, and More!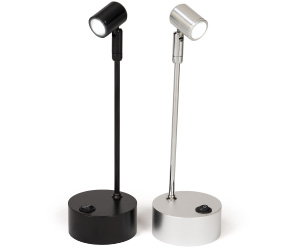 Have a shelf or retail cabinet without lighting that needs some? Our portable spotlights for display cases provide convenient, hassle-free illumination! Even if your cabinet already includes internal lights, extra highlighting can throw focus on specific merchandise such as jewelry, art glass, or other items. These portable spotlights for display cases are battery-powered, so their placement isn't hindered by cord length. Ideal for drawing the eye in retail stores or adding that extra touch of style and sophistication in the home, our accent lights will enhance your presentation with bright white illumination. We offer a helpful variety of color finishes and heights to accommodate virtually any application! Utilize extra portable spotlights for display cases to design a better showcase for viewers or shoppers.
What kinds of features do these LED lights have to offer?
Our portable spotlights for display cases are sold in sets of two. They are constructed from aluminum, not plastic, to provide you with a quality product designed for professional applications.
Powered by three AAA batteries, the LED lights don't require a lot of power to operate and emit minimal heat. This also means no unsightly cords to hide.
We offer styles in silver or black. Choosing one over the other will help compliment the interior of your cabinet and help coordinate with the exterior finish, whether it's black, white, or woodgrained.
Shop portable spotlights in four different sizes, ranging from 4" to 15" tall. We recommend buying these affordable LED light sets in a range of various heights. This way, you can mix and match lighting to create a more exciting layout. The use of a portable spotlight is also dependent upon how tall the piece to be illuminated is. Draw attention to key parts of a sculpture or new product with careful positioning of smaller lights to show off the underside or larger ones to shift focus to the upper portions.
Using accent lighting in retail applications is crucial in making merchandise shine in customers' eyes. Wow them when they enter your establishment by highlighting items like jewelry and watches, boutique designer accessories, and other high-end merchandise that benefits from dramatic, yet focused, illumination. Our spotlights provide convenient and hassle-free lighting necessary for a well-lit retail store. Displays2go sells, in addition to these affordable LED light accessories, showcases with internal illumination. Purchase a cabinet with built-in lighting, available in many sizes, styles, and colors!