Copper Antimicrobial Film with Adhesive Tape for Public Virus Protection
---

Adhesive Copper Antimicrobial Film Protects High Traffic Public Surfaces Against the Spread of Germs
Are you looking for a way to protect your customers, guests, and employees against the spread of bacteria and viruses, especially during cold and flu season? Our copper antimicrobial film is lab tested and certified to kill 99.99% of germs on its surface, making it the ideal covering for highly trafficked public spaces. Cut this protective layering into any size or shape needed to shield common surfaces such as elevator buttons, door handles, reception desks, and keypads from contaminants. Our copper antimicrobial film is designed with copper in the sheet itself, not just on the surface, ensuring the quality and protection can not be worn off with frequent use. Take advantage of these protective shield coverings to help prevent cross contamination without the use of harsh chemicals that can harm the body. Intended for semi-permanent usage, these copper antimicrobial film rolls have a peeling self-adhesive to durably stick to any surfaces and do not diminish in effectiveness when cleaned.
What Locations Benefit From Anti-Germ Protective Film?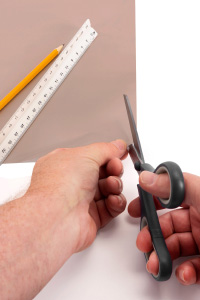 Public spaces such as grocery and retail stores with high levels of foot traffic, especially where many people are handling the same carts, baskets, and fixtures. Use on elevator buttons, grocery cart handles, doorknobs, or remote controls to ensure maximum public health and safety.
Airports are incredibly high-risk areas with a large number of passengers that are difficult to track or manage. Use copper antimicrobial film to cover the arms of airplane seating, bank ATMs, or airport kiosks and directory signage.
Anti-germ shielding coverings are ideal for any reception area or corporate office where many guests are handled throughout the day. This is especially true for call center environments where many employees may utilize the same desk or computer equipment between their shifts.
Restaurants must maintain incredibly sanitary conditions, especially while social distancing rules are in place. Utilizing antimicrobial film on counters, tabletops, and chairs is a great way to assist staff in their efforts.
Ensure that your business is doing everything in its power to safeguard employees' and customers' health and safety, especially during high-risk seasons where infectious disease is prone to spread. Our copper protective shielding coverings are a low-profile, long-lasting way to passively protect guests in environments where surfaces can not be chemically disinfected after every usage. Check out a variety of social distancing supplies and fixtures to fully equip your business and protect anyone who walks through your doors. Displays2go is committed to helping our customers safeguard their employees and guests alike, whether through a pandemic or common cold and flu seasons.