Rolling Serving Carts for Bars, Restaurants, and Retail
---
Wheeled Trolleys with Modern or Rustic Designs for Product Display and Food Service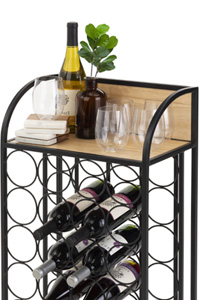 Are you looking for a stylish way to merchandise new inventory or showcase liquor bottles, vintages, and stemware? Our rolling serving carts are designed to display your products or bar essentials in the best light — and do it with a fair amount of flair. Standard, no-frills wheeled utility fixtures are great for bussing, but they are ultimately utilitarian and are not very appealing to the eye. Our decorative rolling serving carts are a visually appealing option and boost a particular aesthetic, whether rustic-industrial, mid-century modern, or country antique-inspired. Use these wheeled fixtures as displays to draw customers' attention to your collection of handmade items or treats at a craft fair or organize your bar selection for entertaining guests. Our rolling serving carts are well-suited to both personal and commercial applications.
What styles of wheeled trolleys do we offer?
Wood and metal rolling serving carts have plenty of space for not only liquor, but glassware, bar tools, and ice storage as well. Compact, wine-focused models hold up to twenty bottles and cater to the serious vino enthusiast. Larger fixtures offer more space and handy features like hanging stemware racks for keeping coupe or martini glasses at the ready.
Metal and glass trolleys prioritize strong visual elements for a thoughtful presentation. Beautifully intricate art deco details and mirrored surfaces call to mind high-class drinking establishments of the mid-twentieth century and perfectly complement bottles of fine spirits, decanters, and drinkware. These fixtures make a great base for an upscale retail display, where an eclectic look is desirable
Wooden carts with spoked wheels suggest a simpler time and lend an air of familiarity and homey charm. A common sight at outdoor markets, fairs, and farmstands and popular with homegrown produce sellers, these displays are best for vendors selling handmade, small-batch items. Some models even offer a chalkboard sign for that extra personal touch.
Whether you're entertaining, merchandising, or catering to guests, presentation is key. Having the right product or putting out the essential bar staples is a great start, but displaying them on a serving cart that matches your desired aesthetic is what brings your vision to life. Hospitality professionals need much more than an appealing bar trolley for successful events. For group food and drink service, portable housings for ice with stainless steel trays are a must. Give the same consideration to form as to function the next time you're hosting or selling your products, and guests are sure to notice.