Frameless Frames - Clear Wall-Mounted Sign Holders with Standoffs
---
Clear Acrylic Wall Frames with No Border for Signs, Posters, and Photos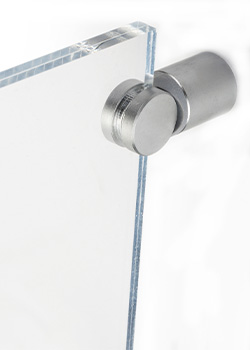 Are you looking to display printed graphics in a clean and modern style? These frameless frames make your menus, wayfinding signage, and promotional materials the center of attention. Choose from a wide range of common print sizes to fit your existing materials perfectly. Our acrylic frameless frames are well-suited to retail locations, high-end offices, restaurant waiting areas, and are also great for displaying artwork and photos in the home. The simple, borderless design supports a contemporary aesthetic, and the transparent plexiglass construction offers both excellent visibility and durability. Our wall-mounted frameless frames attach via standoffs and include all the hardware needed for a painless, quick installation.
What makes acrylic borderless framing an attractive choice for both professional environments and the home?
Frameless frames with standoffs install easily on flat surfaces and allow photos, posters, and art to be swapped out without removing the enclosure from the wall.
Plexiglass panels offer high visibility for landscape-oriented prints — a great choice for wayfinding signage in commercial and retail settings.
Models that combine both a poster holder and literature display save on valuable floor space in lobbies, entryways, and at reception desks.
Borderless acrylic displays put the emphasis on print materials and complement a wider variety of interior decor styles at home.
Wall-mounted standoff framing enclosures are available in many sizes and configurations. From slim landscape-oriented holders for wayfinding to literature displays with built-in poster space that are designed for integrated marketing campaigns, these lightweight, economical fixtures are applicable to many environments, private or public. Are you looking for high-quality signs in a similar no-border style? Explore our wall-mounted custom signage that comes with UV printing directly on the acrylic surface. These all-in-one kits offer vibrant, full color graphics in an easy-to-install borderless format at an appealing price point.