Holiday Graphic Floor Decals for Festive In-Store Promotional Messaging
---
Removable Seasonal Holiday Graphic Floor Decals for In-Store Promotions
Are you looking to up the ante this festive season and spruce up your in-store decor? Our line of holiday graphic floor decals are a phenomenal promotional tool that draws the attention of passersby and alerts them to new sales and promotions in your store. These festive vinyl floor stickers play off a personals natural tendency to watch their feet while walking, especially in public places, drawing their eyes to seasonal messages such as, "Happy Holidays!," "Big Holiday Sale," Eat, Drink, & Be Merry," "Winter Sale," and much, much more! We offer holiday graphic floor decals with a multitude of style, color, and font options to be sure to match your existing or temporary decorum. Each vinyl floor sticker is durable in heavily-trafficked public areas, leaves no residue once removed, and is designed to be reused through multiple seasons. Use our temporary holiday graphic floor decals to share the spirit of the season, to compliment additional signage or decorations, and to remind your customers of the great deals your business has in store for them. Installation is a breeze, simply use a brayer and rubber roller to smooth out the vinyl sticker on any flat surface.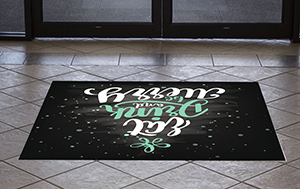 What styles of reusable temporary floor stickers do we offer?
Blue and White holiday graphic floor decals feature a soft grey background with white and light blue snowflakes and winter shapes. These options include a classy "Holiday" font style with a mixture of big block "sale" lettering. Our blue and white floor stickers encapsulate the spirit of winter with reusable promotional signage.
Chalkboard style seasonal ground stickers showcase a black background and rough white lettering, as if drawn with chalk by hand. These options create a more casual atmosphere, feeling as though each sign was hand-made rather than printed. Each sticker also features green and red imagery such as seasonal plants, candy, and ginger bread.
Black and Gold holiday floor decals are a classic, elegant option that excel in high-class establishments. Many of these stickers feature glittery gold backgrounds and lettering, or a simple black and white striped background depending on your taste. Each floor display will add a touch of style to your next promotional showcase.
Traditional winter sale holiday floor decals include a white washed wooden background with festive font styling surrounded by leaves of holly. If you are looking for a simple-to-read, seasonal display, this is a clear-cut option.
Take advantage of reusable seasonal floor decals to improve the quality of sales and marketing displays through the upcoming months of celebration. Each sticker leaves no residue once removed, can be relocated where needed through departments, and stored for the next year. Vinyl floor decals are highly visible, drawing customers attention, and are effective when placed in business entryways, in front of aisles, or leading up to seasonal departments. Displays2go carries a full line of holiday marketing displays ranging from stanchions, hanging signage, banners, flags, and much more. Equip your business with the tools, decor, and promotional material necessary to thrive this season.