Locking Standoffs are Tamperproof for Sign Security, Sold in Sets of4)
---
Locking Standoffs | Tamper Proof Stainless Steel Standoffs Durable and Secure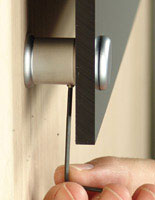 Locking standoffs, sign mounts, and other types of stainless steel standoffs add creativity and style to installations. Our signage supports install just like through style standoffs but have an added feature: Security. While our through locking standoffs can be quickly removed, these stainless steel standoffs use locking screws to set the production in place. This can be an important consideration when installing panels in public areas. Our locking standoffs have been used for wall signage, way-finding, or any other signage display requiring an upscale look. We offer stainless steel standoffs with this security feature for sale in ten different types and styles.
What features do these tamperproof standoffs have?
Locking standoffs come with various designs and sizes.
Multiple colors and finishes are available, such as stainless steel standoffs, & Chrome.
Round, triangle, square shapes are perfect for all your display needs.
Stainless steel stand offs bring with them an industrial look with a very flashy appearance. The way these standoff caps reflect light is quite unique. Plastic mounts have arrived in the color of glassgreen. These standoffs are very affordable and offer something completely different when compared to normal metal stand-offs. Our "hidden" stand-offs can mount panels with no hardware showing. The one style offered here NOT requiring holes in your panels, they are suitable for mounting difficult materials as well as installations requiring hidden fasteners. We also offer tamper-proof styles for sale in designer profiles that we stock in large and small sizes. These stand-offs, which are like border standoffs, come in your preference of three finishes.
Standoffs, including sign supports, add that final touch to any display. Buy standoffs when you need a straightforward mounting system that simply looks great. If you have an application for architectural signage or require a professional-looking lobby sign, our hardware will transform any display into a work of art. See our Display Signs category to view the entire line of stand-offs and related hardware. Buy sign supports for your next installation. Your efforts will make an impression! We at Displays2go are proud to provide these exciting products. Check out our main shopping page for more products and ideas.