LED Light Boxes Feature Backlit & Edge-Lit Technology
---
LED Light Boxes for Illuminating Posters and Signs - Indoor and Outdoor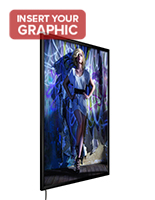 Using the newest break throughs in technology, these LED light boxes offer bright, maintenance-free illumination, even in very large sizes! There are never any bulbs to change with these slim panels. Measuring under an inch thick, these LED light boxes feature an edge lit lighting system that produces bright, even illumination in our thinnest profile ever. Designed to be beautiful, efficient, and user-friendly, an LED light box consumes less energy than traditional light panels, and last five times longer! Simple-to-use snap frames also make graphic changes a breeze. Capture attention and maximize the offering potential of your products. Light panel displays like these LED light boxes are great promotional tools for retail stores, entertainment venues, casinos, and more. Offered in very large sizes, these slim lightboxes also make great permanent fixtures in bars, transportation stations, and malls. Likewise, retail department stores are now using these LED light boxes to feature merchandise as well as name brand awareness. No matter what the need or function, these backlit poster holders will get your signage noticed.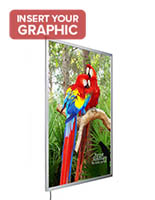 Although more expensive than traditional light box displays, these LED light boxes offer many benefits that help outweigh their initial cost. Because their bulbs are smaller and more efficient than fluorescent bulbs, these edge lit light boxes are thinner and will clearly save you money in future electricity bills. LED light boxes also have a longer life span, lasting for over 100,000 hours. Because of this, LED light boxes are often the best preference for very large graphics and ads. While fluorescent light boxes offer bright illumination in large sizes, their bulbs only last for about 2 years before you must replace them. This can be difficult and time-consuming. LED light boxes, on the other hand, provide even brightness and maintenance-free use for roughly 11 years. Just install and enjoy striking, lighted displays for years to come!
In addition to their long life span and ultra-thin design, LED light boxes are functional and user-friendly sign holders. Designed with your convenience in mind, each of these thin lightboxes features a "flip-open" or "snap-open" aluminum frame. This allows you to change your illuminated signs with minimal effort without even removing the panel from the wall. Routed corners also ensure that no one gets scratched by sharp edges on these LED light boxes. These lighted displays can be mounted vertically or horizontally, depending on your needs. As some of the sleekest light panels on the market, these LED light boxes look great anywhere - even in upscale and classy environments. Casinos, hotels and airports use these backlit displays to advertise numerous merchandise or services. To be sure there is a product for everyone, we sell these LED light boxes in two brushed aluminum finishes - black and silver - and various different sizes. LED light boxes, light panels, and other illuminated sign holders can help your graphics stand out in crowded areas. To be sure that there is a product that fits every need and budget, we sell backlit displays in a variety of different styles.