LED Lighted Movie Poster Frames with Edge Lit Technology
---
LED Lighted Movie Poster Frames with Edge Light Technology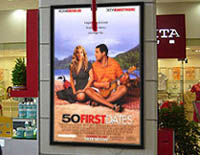 Using advanced lighting technology, these lighted movie poster frames offer bright, even in the darkest theater lobby! This flat lightbox signage features lighting displays that produces even illumination in the thinnest profile possible. Lighted movie poster frames consume less energy than traditional fluorescent fixtures, and last five times longer! Simple-to-use snap frames also make changing the signage a breeze for theater and casino maintenance staff. How often do the bulbs have to be changed with these lighted movie poster frames? Practically never! Since there are no bulbs and light emitting diodes are used as the primary lighting source, they last for the life of the displays. Capture theater-goers attention and maximize the offering potential of products. Light box displays like these lighted movie poster frames are great promotional tools for malls, entertainment venues, theater lobbies, and more. Offered in very large sizes, these flat LED panels also make great semi-permanent fixtures in airports, train stations and casinos.
Is this lighted movie poster frame rated for outdoor use?
Although this lightbox sign is made with aluminum it is not exterior rated.
This lighted movie poster frame contains no gasket material to prevent water from damaging the enclosed contents.
For the complete line of outdoor rated products visit the outdoor category on th main page.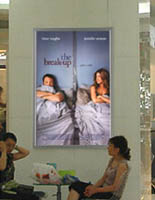 Although more expensive than traditional theater displays, these lighted movie poster frames offer many benefits that help outweigh the initial cost. Because there are no bulbs and they are more efficient than fluorescent bulbs, these edge lit theater displays are thinner and will clearly save the user money in future electric bills. Lighted movie poster frames also have a longer life span, lasting for over 100,000 hours before any light degradation begins. While fluorescent boxes offer bright illumination in large sizes, the bulbs only last for about 2 years before one must replace them. LED Lighted movie poster frames, on the other hand, provide maintenance-free use and even brightness for over 11 years. Just install in a home theater or indoor mall and enjoy striking, backlit displays for years to come!
Why are these lighted movie poster frames more expensive than comparable fluorescent units?
The basic technology used is also more costly to produce. This lighted movie poster frame uses light emitting diodes as the light source which is more expensive than standard fluorescent lighting.
LED illuminated signage tends to be thinner more lightweight than other similar units.
This lighted movie poster frame has no bulbs that need to be changed out, thereby making the operating costs much less than those that use bulbs.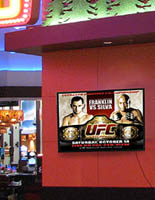 In addition to the long life span and ultra flat design, this lighted movie poster frame is a functional and user-friendly sign holder. Designed with convenience in mind, each of these thin merchandisers features a "flip-open" or "snap-open" aluminum frame. This allows the user the ability to change out the signage in this lighted movie poster frame with minimal effort and without even removing the unit from the wall. Routed corners also ensure that no one gets scratched by sharp edges on the frame. This lighted movie poster frame can be mounted vertically or horizontally, depending on the situation. As some of the sleekest edge lit boxes on the market, this illuminated fixture looks great anywhere - even in upscale and classy environments. This lighted movie poster frame comes in two brushed aluminum finishes; black and silver and in various sizes in an effort to meet most any need. All components of these theater displays are UL listed.