Outdoor Light Box Features Locking Frame for Security
---
Outdoor Light Box Designed For Exterior Use with Swing Open Frame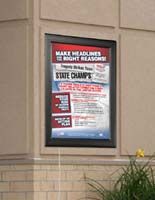 Great for stadiums, arenas, cinemas, and transportation terminals, these essential marketing tools will help get advertising noticed. Constructed with rugged materials, each exterior rated panel is designed to withstand the elements, and keep posters and graphics looking fresh and new. What type of poster material should be used for this outdoor light box? Users should only display translucent or backlit material in this poster holder. Promote a business in outdoor locations such as external walls, walkways, and casinos. Adding light to an outdoor sign display will increase impact and draw people in to inquire about your objects and services. Compared to a traditional sign display, this outdoor light box attracts more attention and can even be seen in dark and poorly lit places. Although this exterior rated panel is designed to withstand harsh weather, it is also optimal for inside use as well.
This outdoor light box allows the user the opportunity to advertise anywhere, in any type of weather, day or night. To keep graphics in good condition, this lightbox features solid aluminum construction and rubber weather-stripping to keep the elements out. Designed with both durability and convenience in mind, this outdoor light box also features swing-open framing that allows for easy poster changes without even removing the display from the exterior wall. Restaurants can make fast sign changes for different specials or menu changes. With predrilled holes in the aluminum extrusion, one can also mount this outdoor light box vertically or horizontally, depending on the need. Locking frames prevent tampering and theft.
How is this outdoor light box mounted to an exterior wall or building?
When mounting this promotional display outside, special screws and other hardware maybe required, so professional installation is recommended.
If this outdoor light box is mounted indoors, the provided screws and anchors are all that are required.
For further queries regarding the mounting of this lightbox display contact a staff member.

Featuring T5 fluorescent light bulbs, this outdoor light box is among the brightest illuminated display on the market. The edge lit technology provides eye-catching illumination without hot spots or shadows. All the viewer sees is bright, even lighting that is uniquely designed to be slightly brighter in the center of the poster. While the bulbs on this outdoor light box do not last as long as CCFL or LED, bulb replacement is simple, inexpensive, and can be done without removing the panel from the wall.
Can these outdoor light boxes be used indoors?
Although this lightbox poster holder is rated for exterior use, it can just as easily be mounted inside
These outdoor light boxes are suitable for mounting in an entryway that may be subject to fluctuating temperatures, or indirect effects from the weather.
With so many advantageous features, this locking display will illuminate a poster or other advertising slogan in any type of setting.
Lightboxes, lightbox panels, and other illuminated sign displays are great for a wide variety of indoor and outdoor promotional applications. Choose from floorstanding units, slim LED frames, and large menu and directory stands. If these exterior lightboxes do not fit your needs, there is a more extensive selection of edge lit displays & light panels that vary in size, finish, and bulb type. Customers can choose the option that best fits the application and budget.