Plastic A-Frame Signs - Portable Sandwich Board Graphic Displays
---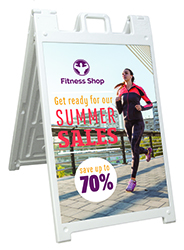 Plastic A-Frame Signage and Sign Boards for Outdoor Advertising
Need promotional displays that are affordable, weatherproof, and easy to store? Plastic A-frame signs have a robust design that's great for advertising outdoors. Whether they're placed on the sidewalk outside a retail store or in the grass at a festival, they're sure to get attention with poster-sized graphics. The folding plastic A-frame signs are ideal for attracting attention from both foot and vehicle traffic in both directions. The double sided sidewalk signage features a high-visibility design, displaying advertisements at an angle that's easy to notice. Use durable plastic A-frame sign holders to promote your business — whether it's a shop, bar, gym, or parking lot.
How do you advertise with this outdoor signage?
Plastic A-frame signs with custom printed boards create a convenient advertising solution for any business. It's easy to feature your personalized promotions in full color and vivid detail. Each double-sided display set includes two printed boards for showing custom promotions on both sides. Made of strong Coroplast®, a sturdy corrugated material, these inserts are excellent for long-term exterior use. These personalized graphics and sandwich boards are each sold separately.
Alternatively, choose A-frame signs with blank poster boards to make your own advertisements at your local print shop. We use a high-quality digital printing process to create our full-color graphics, but it's important to have the option to do it yourself. Choose from black and white for the ideal backdrop for your DIY promotional solution.
A-frame signs with changeable letters create easy-to-change messages that are perfect for promoting sales, events, and other limited-time opportunities for customers. Each sandwich board includes a set of over 300 characters including numbers and symbols to create any desired advertisement. With black letters and red numerals on a white background, your ads will stand out too passersby.
Want more advertising space? Choose a sandwich board with an included header graphic to feature an inviting message. This area is perfect for introducing your business with lines like "Try Our New Burger", "Craft Beer Festival", or "First Month Free".
Our other styles of sandwich boards include stands with direct printing that create a sleek presentation with the same durability as conventional models. This affordable option has edge-to-edge artwork and can feature a unique image on each side.
These sidewalk A-frames are great for bringing in people off the street, whether they're walking or driving. Their large 22" x 28" and 24" x 36" displays get people to notice what you're offering. Our larger sizes include 36" x 48" and 30" x 40" for even greater visibility. If you want your business to stand out from the rest with an unmissable promotional display, browse our printed flags, featuring both custom and stock messaging. All of these A-frames and exterior advertising holders are offered with wholesale pricing for bulk orders.