Large Format Frames - Aluminum with Quick Change Design
---
Snap Frames for Large Format Posters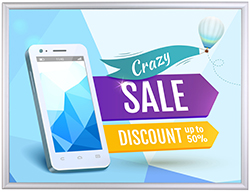 Need to grab customers' attention with oversized graphics? These large format frames are ideal for featuring your advertisements and posters where everyone can see them. Retail stores often use poster holders like these to promote new merchandise and special offers. Use large format frames in restaurants to showcase decorative prints and promotional graphics. What better way to promote your bank, accounting firm or real estate agency than with huge advertisements that are easy to see from a distance? We offer large format frames with all the necessities to make for a great promotional display.
What makes our poster holders excellent advertising? Each of the large format frames shown here has a snap-open enclosure that makes changing out graphics a breeze. With this quick change design, just roll back the edges to access your image; no need to remove the fixture from the wall. In addition, every single large frame comes with a clear lens to protect artwork from damage. There's no need to worry about moisture, dust or fingerprints tarnishing your signage. Each unit comes with with a Lexan or PVC cover to protect it. This also has an anti-glare quality that keeps visibility high no matter where these displays are placed. Another feature of this framing is its included mounting hardware for immediate setup. Each poster holder can be hung in a portrait or landscape orientation as well.
Our selection also includes large frames with different configurations to accommodate any business. While all of these print holders are made of durable aluminum, some have a secure enclosure for outdoor use. Advertise anywhere with eye-catching graphics that can draw passersby into your establishment. The advertising signage also come in two neutral colors, black and silver, to match any location or advertisement.
Why buy these large frames from Displays2go.com? Our entire catalog features wholesale pricing to affordably supply your business. In addition, the displays shown here ship same day to get to you as fast as possible. For more sizes of quick change frames, browse our category full of snap-open fixtures.