Slatwall Sign Holders Display Signage of All Sizes
---
Slatwall Sign Holders Display Notices, Flyers, and Advertisements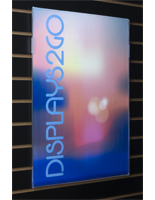 Looking for a way to present sales flyers or promotions? Using slatwall sign holders to show signage is an effective way to get messages across to shoppers. These acrylic plastic frames make it possible for the contents inside to shine through while still protecting them from being tampered with. Each slatwall sign holder attaches to any slot wall fixtures without tools or adhesive. This makes acrylic plastic frames a popular choice for displaying a variety of signage like signs, signs, banners, photos, or graphics. Use slatwall sign holders to promote your business, post store hours, or show product descriptions.
Why choose acrylic plastic frames to showcase signage?
Slatwall sign holders are extremely versatile. Users can move them around easily to create the perfect display. Switch out signage or reposition sign by slipping the frame into the channels of any slotwall fixture.
These acrylic plastic frames are an economical choice for retailers, yet constructed from high quality materials. This makes them a first choice for locations like malls, kiosks, department stores, schools, and supermarkets. Customers can place large orders for a low price without worrying about receiving products that lack quality and durability.
Choose from a variety of different sizes ranging from 8.5" x 11" to bigger 22" x 28" and everything in between. The numerous size options allow for users to promote many different types of signage.
All our acrylic plastic frames for slotwall fixtures are made right here in-house as a part of our Workshop series of products. Customers will have peace of mind that they are getting the highest quality material when they purchase one of our plastic frames to display signage. If your needs go beyond slat wall holders, Display2go sells many slotwall fixtures such as stand-alone towers, and wall panels. Combine any of our retail display accessories for an impressive display. Shop online at Displays2go to create an impactful retail display!