Rear-Loading Aluminum Poster Frames Feature Decorative Profiles
---
Aluminum Poster Frames for Professional, Wall-Mounted Results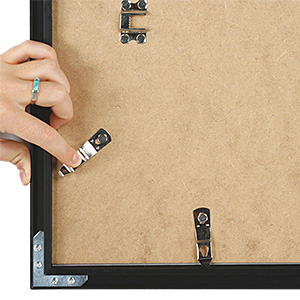 Do you have prints or other media you want to showcase for a length of time? Rear-loading aluminum poster frames provide the means for a more permanent display format. A nice print or graphic demands a high-quality enclosure. Thanks to their rear-loading capabilities, our aluminum poster frames are designed for long-term presentation. Hang corporate artwork, commercial photography, or other prints with the style and distinction they deserve. Decorative moldings accent and enhance your visual media with simple, monochromatic colors. With the addition of optional pre-cut mat boards, the level of professionalism increases!
What are the finer points of traditional rear-load framing?
These metal poster frames are manufactured with extruded aluminum profiles. We offer a number of different moulding styles available in either black or silver anodized finishes.
Our picture frames ship to you fully assembled. The mitered corners are put together using steel connectors for long-lasting performance.
Each poster holder features a chipboard backer. To insert a photo or print, simply slide the retainer clips out from underneath the frame for access.
You have the option of installing these wall-mount frames in either landscape or portrait style. Hanging hooks for both formats are attached to the backer.
Our acrylic lenses not only protect your graphics but also make the frame itself quite lightweight. In contrast, glass lenses add a lot more weight and are susceptible to breakage during shipment.
The aluminum enclosures come in most standard poster sizes, including 18x24 and 24x36. Other types of framing, such as front-loading quick-clip frames, are designed for short promotions. Not these. This is what makes them perfect for use in commercial buildings as well in the home. Hang inside waiting rooms, hotel lobbies, and cafes to add some decoration or visual distraction. They provide just the right amount of embellishment for enhancing any graphic while protecting them at the same time!