Retractable Crowd Control Barriers with 6.5-foot Colored Belts - QueuePole.Economy
---
---
---
---
---
---
---
---
---
---
---
---
---
---
---
QueuePole.Economy Barriers for Crowd Control with Retractable Belts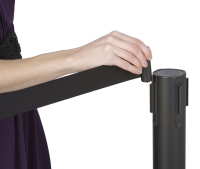 Looking for a quick and affordable way to create a checkout line or rope off staff-only areas in your business? These retractable crowd control barriers arrive practically ready to use, so you can get your queue line up and running right away. Simply screw the post into the base and start setting up — no tools required. If you have a unique layout in mind, no problem! Each retractable crowd control barrier with 6.5-foot belt has a four way adaptor, so you can easily get the right configuration for your space. Rearranging is easy, too — every band slides on and off the receiving post, so you can quickly change the direction or shape of your line without having to unscrew or take anything apart. A series of interconnected black stanchions are a near universal symbol that tells guests to form an orderly line or keep out of a restricted area. For a more upscale look, consider a silver-finish post to compliment your business' classy decor. Stanchions with clear plastic poles allow you to customize and fill with graphic inserts, seasonal decorations, or industry-specific items for some fun and festive style. Our 41" tall retractable crowd control barriers are a tried-and-true method for organizing lines and large groups of people. Keep your event or retail checkout running smoothly during peak hours with these QueuePole.Economy stanchions.
What are the best applications for retractable crowd control barriers?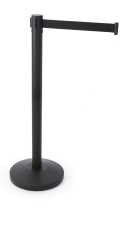 Movie theater and other box office ticketing lines use stanchion setups to condense a large group of waiting customers into a neat, manageable area. These barricades can be arranged into a variety of shapes and form several queues to match the number of service windows.
Sometimes it's necessary for VIP or restricted access areas to be blocked off at events. Create perimeter of crowd control barriers around a 21+ area or beer garden in locations with strict alcohol rules. Guests who purchased exclusive passes can have their own meet-and-greet area, as well.
Airports and banks are buildings where security is a concern and there is often a high volume of customers. A set of easily-rearrangeable crowd control barriers can keep large groups organized and contained when necessary. The same fixtures that act as security barricades can also be used as queue line management.
These posts are especially effective for protecting high-value items in museums, dealerships, and car shows. Anywhere you'd rather have guests look, but not touch, a highly-visible perimeter can send the right message.
Put stylish spin on your setup with a colored belt! With options like blue, red, gray, and pink, you don't have to settle for the conventional black band. Many fixtures offer custom printing options as well, so you can personalize your belts with your organization's name or logo. No matter which look you choose, each round post comes with a sturdy, rubberized or padded base for slip prevention and protection from floor damage. For a semi-permanent installation, consider a Queue.Pole Economy wall mounted stanchion with pull-out belt. Because they use the same cassette, these fixtures can be easily tied into arrangements of floor standing models to maintain a clean look.