Wall Signs In Many Shapes and Sizes
---
Wall Signs - Personalized Plaques For Offices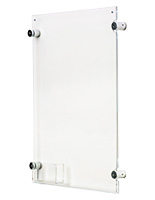 Wall signs, corporate signage, and other business signs are a common sight in lobbies and buildings. These wall signs display your pre-transcribed inserts as well as custom-transcribed films. Post announcements, room numbers, office designations, and more. These office signs, wall signs all have front-loading features. Customize your promotions readily and quickly by switching out the graphics without entirely removing the signs from the wall. Our business signs are a decorative way to present a visual sign system within the structured environments of corporate buildings.
Why choose wall signs from Displays2go?
Several sizes are offered to suit a variety of display needs.
All of the wall signs shown here are made from high quality materials.
A variety of price points are offered to suit even the most budget-conscious patron.
Wall signs are designed for use in a variety of indoor settings. Offices generally use these signholders to display room numbers or employee titles outside of a room. This allows both employees and visitors to easily identify the rooms and enter the correct one. Offices also use wall signs to display room titles, such as "Photo Studio" or "Conference Room".
These business signholders, also known as acrylic sandwich frames, are often seen used in a hospital or lobby area, displaying directional signage or menu options. Hospitals often purchase numerous wall signs, and group them together, to create a way-finding or directory. This allows both visitors and patients to easily locate the department they are looking for. Such signs as "Oncology Center → " or "Urgent Care ←" are often displayed in these types of poster frames. Wall signs, like these, help to lead patrons in the right direction. Lobbies within doctors' offices or hotels also use these types of sign holders for similar purposes as well. In a lobby, the wall signs can be used to display such signage as "Parking Lot → " or "Guest Check-In ← ". By grouping the frames together, users are able to create sign systems, for easy navigation through your institution.
Where are these types signs often found used?
Business & Office Settings
Hospitals & Medical Centers
Museums & Art Galleries
Hotels
Retail Stores
Law Firms
Restaurants & Bars
& More!
These office plaques come in a variety of sizes. This selection includes smaller signholders, which are ideal for displaying room numbers, as well as larger frames for displaying longer titles or other types of signage. Some of the office signs, like the 3" x 15" size, are ideal for use within a museum or art gallery. There, the signholder can display the name of the artist and title of the artwork, with additional information about painting or sculpture, such as the artist's inspiration or time period in which the piece was done.
Some of these door plaques come with double-sided foam tape for easy wall mounting. The tape is already pre-attached to the back of the frames, enabling users to use the product right out of the box! Other sign holders in this category feature sign standoffs, to create a very modern looking signholder. These types of customizable sign frames with standoffs require additional tools for wall-mounting. However, installation is easy, and takes mere minutes to complete. In addition, the necessary hardware for mounting is included with each purchase.
The Displays2go product line includes decor sign holders along with many other display signs geared towards sign shops, interior designers, and installers. These sign holders, decorative plaques are produced with our customer's budget in mind. You won't find a better looking variety of display signage at these prices! These door sign frames, also known as business sign holders, let you customize your office interiors to your liking.
In addition to the signholders seen here, several other sign frames can also be found in our main signage category. Displays2go is also home to several other display products as well. In business for over 35 years, we have quickly become a leading stock supplier of quality marketing displays and point-of-purchase display products. The online catalog is home to over 7,000 unique products. This selection includes everything from store fixtures and lobby displays, to outdoor banner stands and event display products. Each day we are adding new products to the site, in an effort to bring our clients the most comprehensive selection of products found anywhere on the web.