Hanging Display Cabinet Offered in Various Finishes
---
Hanging Display Cabinet for Wall Mounting
This hanging display cabinet is ideal for those who want to display small collectibles but have limited floor space. These wall mounted glass cases are perfect for showcasing an expensive collection of figurines or designer crystal. The showcases provide users with a compact and space saving solution for displaying valuable memorabilia. It is ideal for small sports merchandise, souvenirs, bells, and other collectibles. Plus, each cabinet is made with the finest materials. The framing itself is made of solid wood with multiple finishes available like oak or cherry. This small display also features a tempered glass door and shelves. This type of glass is used as a safety measure because in the event that it breaks it poses less of a hazard. Additionally, this hanging curio cabinet features adjustable shelves to accommodate merchandise of multiple sizes. The shelving can also be removed to allow for even larger items to be displayed. These cabinets are just a few of many curio showcases offered here! Choose a wall mount glass case with metal framing, or a modern wood display with a curved front. There is a display case here that will satisfy any need or blend with nearly any existing furniture & decor! You can use these wood wall mounted cases in a home or office to display your collectibles or awards.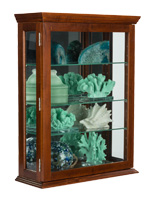 Some of the hanging curio cabinets in collection shown here are supplied from the Howard Miller Company. Howard Miller is known for incomparable quality and craftsmanship. The company started over 80 years ago, hand-crafting grandfather clocks. In 1989, the company continued crafting clocks, but began creating floor-standing and hanging display cabinets as well. Displays2go sells units from Howard Miller because we stand behind the name and all it entails. Display cabinets are often passed down as family heirlooms from generation to generation. We are proud to be a part of this process for many families across the United States. Howard Miller hanging display cabinets are ideal for a family looking to invest in a piece of furniture capable of lasting many lifetimes.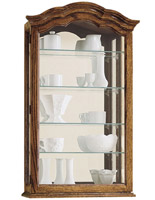 The wall mounted glass cases shown here have a unique feature that allows them to also be placed on a mantle or tabletop. This "no-tip" base is designed such that it is wide enough to support the unit. These products have so many advantageous features, and can serve numerous functions, it's no wonder they are one of the best-selling wall mount wood cases sold here.
Can these cabinets be wall mounted by one person?
For experienced installers, these wall mounted wood and glass cases are a breeze to hang.
These small display cabinets include a detailed set of mounting instructions as well as all of the necessary hardware.
Special consideration should also be paid to the positioning of the unit on the wall so that it is hung on a wall stud or other stable surface.
Do any of these display cabinets come with mirrored backs?
The majority of these wood and glass wall mounted showcases come with a mirror backing to further complement the contents.
There are a limited number of products that have a solid backer.
For more in-depth descriptions, please see the applicable product page.
Along with this selection of glass and wood wall mount cases shown here, there is a wide range of point of sale displays that can be seen in the online catalog pages. View all of the lines of objects beyond POP fixtures such as; retail counters, trade show accessories, countertop acrylic cases, and much more. This corporation has been producing and offering quality display merchandise for nearly four decades. What started as one man's hobby, is presently employing over two hundred and fifty staff members, and occupying three large warehouse buildings. There are more than two million units in these warehouses at any time. By maintaining this sizable inventory; lead times are kept to a minimum, as are prices. Many of the prices offered here are far below any of our competitors'. Be sure to browse through the sale merchandise in the clearance category. The fixtures featured on these pages are; overstock, discontinued or slightly damaged merchandise that have been dramatically reduced and priced to sell. Be sure to look at all of the new products that are added to this site daily. We appreciate your business, and invite shoppers to return often to see all of the new and exciting products that we have to offer.