Tent Card Holders with Double-Sided Designs in Many Sizes & Styles
---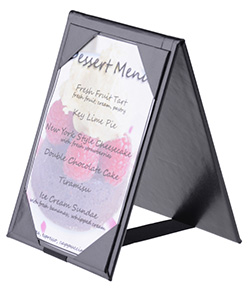 Countertop A-Frame-Style Table Tents for Food Service, Retail Marketing, and Other Applications
Are you looking for self-standing signage for tabletop advertising? Tent card holders provide a classic look if there ever was one! Originally made with printed cardstock and folded into the familiar triangular shape, these convenient sign displays have evolved into reusable sales tools. Our double-sided tent card holders are manufactured in plastic and leatherette and come with open slots for inserting cardstock prints. Useful for a variety of industries, tabletop A-frame displays can be updated with new menus, seating assignments, or retail pricing. Moreover, their low cost allows for inexpensive bulk purchasing. Place tent card holders on every table inside your establishment to increase awareness as well as revenue!
Which self-standing table sign is right for me?
Acrylic tent card holders offer the sturdiest performance thanks to the stable, A-frame design. The displays are heat-formed into a permanent shape and therefore, will not splay open. Available in 1/8" thick clear or green-edge acrylic, our tabletop card holders can accommodate many standard-sized formats from small to large. Display company services, credentials, menus, or pricing.
Inexpensive table tents made from PETG plastic offer the same benefits as the acrylic models but have some different characteristics. Your printed inserts are featured in the same way, but the plastic is very thin (.020") and flexible. For this reason, PETG tents are better suited for hands-off display. Use them for displaying pricing inside food display cases, or upon a retail shelf or table advertising a seasonal sale.
Restaurant menu holders exemplify the use of black leatherette. The faux-leather cloth material feels luxurious and soft to the touch. Printed offerings listing happy hour appetizers and drink specials are held in place by slots at each corner — just like an upscale menu cover. Integrated ribbons at the bottom prevent over-splaying, and the tents fold flat when not in use. Leatherette signs offer a refined way to cater to patrons sitting at restaurant tables or up at the bar.
We supply tabletop A-frame signs in a variety of sizes to choose from, including 4" x 6", 5" x 7", 6" x 4", and 7" x 5". Applications are virtually limitless. Increase the reach of your brand at trade shows, designate tables at banquets and receptions, promote new products, or advertise upcoming events. The great part is that these displays are eminently reusable. Gone are the days of custom-printed "use once and throw away" folded paper tents! Looking for more menu holders aimed at cafes, bistros, and bars? Restaurant table signs like flip stands with multiple sleeves, table numbers, and multi-panel displays offer even more ways to market your establishment.