Literature Display Stands Organize Brochures, Magazines and Catalogs in Lobbies & Offices
---
Floor Standing Literature Racks with Multiple Pockets for Magazines and Brochures
Does your business need a better way to offer marketing materials to your customers? Literature display stands, also known as brochure kiosks, are an invaluable tool that allow guest to easily browse multiple periodicals in one streamlined rack. Waiting rooms, lobbies, and common areas are some of the most popular locations to distribute magazines and information packets. When positioned in high-traffic areas, literature display stands make printed materials more appealing and accessible. Any environment with a large volume of visitors can benefit from a multi-tiered brochure kiosk or magazine rack. Retailers, exhibitors, and doctors offices alike all use our literature display stands to provide informative booklets to both entertain and educate their customers.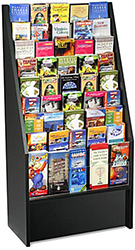 These magazine and flyer holders feature more capacity than traditional countertop models. Utilize multi-pocket options to hold various types of brochures, booklets, and periodicals at once. A literature display stand places marketing materials in a centralized location for customers to easily browse and take home. Providing guest with industry-related information such as medical journals or product catalogs creates a better informed customer base and boost brand authority.
What makes our floor standing magazine display stands so effective?
Pamphlet racks are highly versatile and many options in this category feature adjustable pockets. This allows marketers to showcase publications of different shapes and sizes all from the same unit. The divided pockets enable users to choose which size reading materials will go in each compartment to diversify the selection.
There are even wide-format models with pockets that fit larger periodicals. Newspapers and daily papers are easily accommodated. Tabloids are often displayed in these newsprint holders as well. There is a display stand for every business, no matter what kind of reading materials need to be presented.
Our display stands are capable of organizing many different publications in one fixture, some models even supporting up to (80) pockets! Use the sheer size of these brochure kiosks to showcase diverse selections of printed media options and get powerful marketing information into the hands of your customers!
One of the main distinctions between each model is the number of pockets included. Every display stand within this category features a multi-pocket configuration, but some are actually modular and can be used in different ways. A prime example is that one brochure kiosk can alternate between 24 small wire pockets and 12 larger slots to house both magazines and catalogs. Adjustable models can feature simple wire hooks or removable hard plastic pegs depending on the model. With so many great choices, it is easy for buyers to locate the model that best suits a particular advertising or merchandising campaign.
What materials are used to manufacture these magazine display stands?
Metal, specifically steel, is one of the strongest materials for use in high-traffic areas. The rugged construction offers long-lasting dependability no matter where the publication display racks are set up. Customers can choose from silver, charcoal, and black finishes for these units.
MDF, medium density fiberboard, is a quality material used for constructing these floor standing brochure racks. The MDF provides exceptional reliability and upscale wooden styles in red mahogany or black finishes.
Hard plastic units are a great option for those with limited budgets. This material blends in with existing office environments and are best used in locations with a medium amount of traffic.
Magazine display stands are designed to ensure publications are easily accessed, so take-away information gets into the hands of your customers. Use a free standing brochure rack as a prominent fixture to draw attention at a glance. The functional design is one of the many reasons these stands for displaying literature work so well in tons of different locations. Hospitality businesses, including hotels and resorts, are ideal applications for the holders. Here, they can be used to pass out free information regarding local attractions, events, and points of interest. Visitors' centers often use the racks for the same purpose. Retail stores and restaurants can also take advantage of the highly visible floor-standing fixtures to detail new offerings, goods, services, and more.
We have a display stand for any event, occasion, or industry. While our floor standing options are extensive, it is entirely possible that your needs may demand a countertop or even a wall mounted option. Browse our full line of magazine and brochure holders to find the perfect solution for your business. Whether you are looking to store office files, newspapers, magazines, publications, or journals, we have what you need.