T-Style Base Sign Frames - Open Top and Bottom Loading Plastic Holders
---
---
---
---
---
---
---
---
---
---
---
---
---
---
---
---
---
---
---
---
---
---
---
---
---
T-Style Sign Holder with Clear Acrylic Base for Promotions & Menu Cards
Are you looking for an economically viable, highly impactful acrylic signage holder for your business? The simple, yet effective design of our T-style base sign frames have become a customer favorite in industries ranging from restaurants, trade shows, and retail shopping centers. We offer a plethora of clear signage and menu holders in a variety of sizes to meet your organization's particular promotional needs. This collection of T-style base sign frames features options with top and side loading capabilities, as well as locking units with silver standoffs for a classic, modern look. The transparency of our acrylic and plastic designs are a great choice for advertisers in any industry and places all of the attention on your promotions. Customers use our T-style base sign frames to advertise ongoing sales, present pricing structures, reservation information, and event news and share retail membership card offers. Set the see-through signage holders atop any counter, checkout area, or service desk to feature pertinent details no matter what your industry is!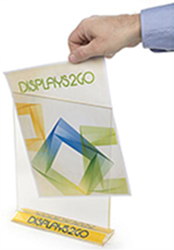 What are some stand-out features of these transparent enclosures?
One of the interesting features of these T-style base sign frames is that they are formatted specifically for portrait or landscape formatted prints. Each design will hold either a vertical or horizontal insert, so promoters can get the specific look they desire from their displayed signage.
This sign frame collection includes options with open top, bottom loading, and standoff designs. Signage is easily and quickly inserted through the top or bottom channel, so updating information can be done on the fly. Standoff sign frames provide a classic look with stainless steel accents. Many restaurants and service establishments love this feature! Users can even place printed graphics back-to-back for two-sided viewing. Double your impact with any of the two-sided sign displays.
Our plastic sign frames, also known as acrylic holders, range in size from 4" x 6 to 11" x 17" and everything else in between. In addition to these print holders, we offer many other framing solutions including clear bases where users can insert a heavy stock card or laminate paper. The bases, clear displays, and other plastic sign frames in this series are some of our best selling retail fixtures.
Our plexi advertisement card holders are a great addition to any business. These clear acrylic frames, called acrylic photo frames, are conventionally used in dining institutions or checkout counters. Simply insert your transcribed graphic from the bottom, top, or sides in vertical or horizontal orientation. You may choose these acrylic photo frames with either a frosted or polished edge, depending on your preferences. These displays are great countertop acrylic photo holders for any location and can be used as a countertop or hotel display. These displays can do wonders to increase revenue by reminding customers of limited-time sales or offers at checkout, enticing bar guests of daily drink specials, and informing patrons of upcoming events. Contact our sales department to add your logo, company, or product name to select products and make a truly unique design.