Sign Holders with Brochure Pockets Provide Take-Away Reading Materials
---
---
---
---
---
---
---
---
---
---
---
---
---
---
---
---
---
---
---
Countertop Sign Holders Featuring Brochure Pockets for Take-Away Literature
Are you looking for a way to create a memorable signage system complete with a surefire way to build brand awareness? These sign holders with brochure pockets deliver a one-two punch — capturing customer attention with promotional graphics and sending them home with brochures or magazines to review. This is a great way for your guests to leave with a reminder of your goods, services, or seasonal promotions. Pair eye-grabbing advertisements with captivating printed content to increase brand awareness, strengthen customer relationships, and to serve as an at-home reminder that your business is the best and only choice with our sign holders with brochure pockets. These acrylic sign frames with literature compartments are a great addition to trade show booths, due to their compact design and effective advertising potential. Premium sign holders with brochure pockets include built-in media players that are primed and ready to capture the eye of your patrons. Many of these options are a part of our "The Workshop" series, meaning that you can work directly with our design team to create your own custom graphics.
Why choose a countertop literature holding signage system?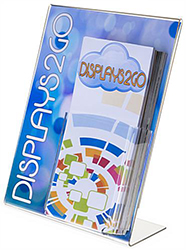 Use our sign holders with brochure pockets to maximize visibility by providing customers with take-away literature packets. This is an inexpensive form of advertisement and information sharing which can promote return sales, build brand loyalty, and promote conversation about your business between friends and colleagues. These sign holders with literature compartments allow potential customers to take a description of your products and services home with them, giving them more time to make a sound decision without a salesperson pushing for a purchase, thus creating a more organic experience.
Digital sign holders for take-away literature is a modern adaptation to a long-standing advertising solution. By adding personalized electronic content into the mix, users are able to spice up their marketing displays and capture patron's attention. Featuring a vibrant LCD screen, our customers can upload promotional content catered to specific weekly, monthly, or seasonal sale events.
Through collaboration with our design team, our customers are able to create and upload personalized graphics to print on the front face of each sign holder. This option is great for increasing brand awareness by updating logos or slogans or can be custom made to suit the needs of a one-time or annual event. Even our custom fixtures are affordable enough to purchase many with different graphics, or simply reuse one frame throughout the year that proudly displays your company's logo.
Our see-through acrylic leaflet holding signage kits provide a visual boost, enticing customers to grab a pamphlet packed with additional information. Multi-pocket countertop fixtures are an ideal way to showcase multiple product lines and services at once, giving patrons all the more reason to give you their business. Tabletop literature racks, especially those with digital signage, are a must-have promotional tool for any organization be it in a brick-and-mortar location or on the trade show circuit. For wall, hanging, and floor standing options; browse our selection of commercial signage systems and equip your place of business with full-coverage marketing campaigns. Shop Displays2go for custom event signage and all of the fixtures you need to properly present them.