Glass Door Sign Holders - Stick-On Frames for Storefront and Window Mounting
---
Glass Mount Sign Holders with Suction Cups or Stick-On Frames
Are you looking for an effective way to post notices or adverts? Glass door sign holders attach to storefronts and windows, making sure your messaging gets noticed. Designed to post hours of operation, public announcements, services, or upcoming events, glass door sign holders serve a fundamental but essential purpose. Displays2go offers these stick-on display frames in a wide range of styles and sizes to fit any window or store entry. Thanks to their easy-insert designs, swapping signage or posters is accomplished in seconds. Our glass door sign holders perform this job effortlessly and most affordably! Read on to learn more about the two main styles available for purchase.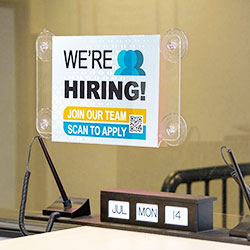 Suction Cup Sign Holders:
Glass window display frames that mount with vacuum action are the best choice when you want the freedom to reposition at will.
Installation is swift. A simple push on each suction cup firmly attaches the sign holder to any smooth glass surface.
Smaller frames are fabricated from laser-cut acrylic plastic, then heat-formed into a foldover design to accept the insert.
Large formats for posters are displayed with either a thin PVC sleeve or top and bottom sign rail holders, which are then attached to glass with suction-cups.
We also sell models with black borders, which provide better legibility thanks to the "framed" appearance. These holders come in either single or double-pane styles.
Another point worth mentioning is their double-sided functionality. Notices and posters can be inserted back-to-back for viewing while coming and going. For example, post an announcement for visitors entering your establishment, then display a Thank You message or other sentiment for them to see on their way out.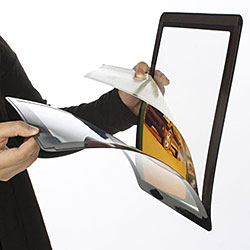 Adhesive Stick-On Sign Holders:
Frames that attach with tape offer a more permanent solution, yet these can still be removed and re-applied when needed.
The least expensive options are the plain PVC sleeves. Just like page protectors, these thin semi-rigid holders keep your inserts clean and flat.
A second style offers two-piece construction. The backer is taped to the glass while a faceplate sticks to it via magnetic strips. These models also come with black borders that give the display a more finished look.
Perhaps the best feature of these stick-on sign holders is their thin profile. Unlike their suction-cup counterparts, the adhesive displays offer clean lines and a very flat presentation.
These frames are also double-sided and can display notices or adverts back-to-back.
While many stores and businesses make do by taping paper signs and notices to doors or windows, after a time these kinds of posts start looking worn and tattered. Holders and sleeves help keep up appearances with a more professional and longer-lasting presentation. And now, more than ever, the COVID-19 epidemic has tasked store owners with notifying incoming customers of mandated health directives. Our window display frames provide the means of communicating important information with reliability and at low cost. Want to see more clear plastic poster displays? Frameless acrylic holders are available in both tabletop and wall mount varieties.