Table Sign Holders Are Available in Various Sizes and Designs
---
Boost Sales at Restaurants & Retail Stores with Acrylic Table Sign Holders
Are your table sign holders in need of a fresh look? Do you need new acrylic frames for your bar or café? In the restaurant world, graphic frames are used to showcase menu items and specials for customers to browse before they order. These economy displays allow for additional advertising right at the tabletop level. Statistics show that approximately 70% of purchase decisions are made upon impulse, so why not entice your guests to order an extra appetizer or cocktail? Effective tabletop sign holders can have a huge impact on sales for a particular menu item or special. The standard 4x6 or 5x7 sign make it easy and convenient for restaurant owners to print their own graphics, thereby removing the need to have professionals print new cards. We offer a wide range of other sizes as well including 4x9 and 8.5x11. Choose the table sign holders that best suit the space availability and venue size. Shop these display frames that feature a red or black base to complement other fixtures within the dining area. This hint of color will also help catch the eye of your guests, and entice them to read the signage. Other table sign holders offered here feature a silver metal base. Like the black and red colored bases the unique design of this metal and acrylic will capture the attention of patrons and increase the likelihood of them reading the specials being offered. All of these table sign holders are eligible for same day shipping; see the product pages for more details. To change signage with these menu displays there are a few different methods. These displays are either bottom, top or side-loaded; meaning the images are slid-in from one of three directions. No matter which method shoppers purchase, they are all equally simple to operate.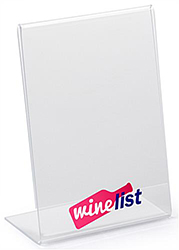 Can these frames be custom imprinted with a company logo?
Many of the acrylic display options offered here can be customized.
Each sign holder has a minimum order requirement in order to qualify for a custom job.
Typically shoppers would need to purchase at least one thousand units to meet the eligibility requirements of custom imprinting.
Can you honestly say that you've never made a last minute purchase decision? Research shows approximately 70% of all retail purchase decisions are made in the store. And 53% of those in-store purchases are made on impulse. So just how do restaurants capitalize on these high numbers? By using a sign holder! It's advertising - it's highly effective in persuading potential consumers to make additional menu selections, or pricier food items. Display your daily meal specials that when properly placed, can entice impulse buyers to purchase your cuisine. For cafés and bistros that have limited wall space or just looking for a new way of displaying the same old signage; why not try this menu sign holder. This product line includes numerous different sizes, with prices starting at less than ten dollars! Customer's eyes are more likely to be drawn to sitting right in front of them than those that sit against the wall.
Companies are always coming up with creative ideas to increase their sales on a tight budget. For example; instead of just laying take-out menus on the counter, (where most of them will end up on the floor), display them in an inexpensive acrylic display, thereby keeping them organized, vertical, and more attractive. Tradeshows are also becoming more important for businesses to get their name out there and noticed. See the selection above of the latest restaurant & cafe displays from this ever expanding catalog. Our engineers are constantly coming up with new and original ideas for future products, so go ahead and bookmark this page and visit frequently to check out the latest display products.