Display Cases | Professional Fixtures for Retail Merchandising, Trophies, and Collectibles
---

---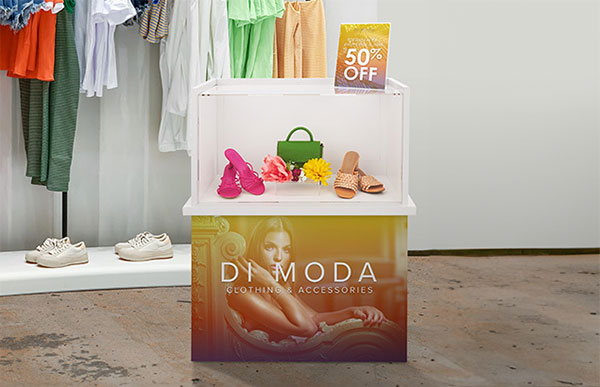 Eco-Friendly Display Cases
Shop cases that support a variety of sustainability initiatives like material choice, recyclability, and more.
Shop Sustainable Display Cases
---
Retail Tips by Displays2go
---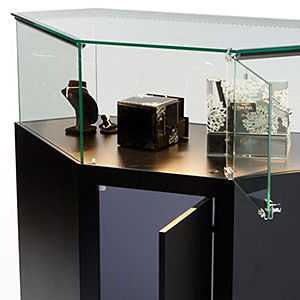 Retail Showcases and Checkout Counters Form the Bones of Any Store Layout
Need to buy display cases, but don't know where to begin? Thanks to our extensive selection, it helps to think about how you plan to use them. Most retail stores use a combination of counters, cash wraps, and register stands as the command center by placing many different fixtures into one modular configuration. Here, employees work behind display cases to help customers and complete transactions. Glass display cases featuring plenty of shelving space come in taller designs to better elevate merchandise to eye level. Pedestal models are excellent choices for gift shops, galleries, and museums, while traditional wood curio and china cabinets add that heirloom touch to any traditional retailer. Select display cases offer quick shipping, so read on to learn more about our products and what they can do for you and your business.
What kinds of features do glass showcases have to offer?
Many cabinets are available with or without interior LED illumination to better showcase merchandise. Thanks to their cooler operating temperatures and more efficient power consumption, LED lighting is the smart choice for retailers everywhere. Lights come in strip, spotlight, and recessed styles, depending on cabinet make. Illuminated merchandise has the power to attract shoppers and make expensive items appear more desirable, so let us help you get the most out of your retail store with visual merchandising.
We offer a huge collection of in-stock & ready to ship display cabinets. Use them to store and highlight products, school trophies, or collectibles while keeping them free from dust, dirt, and fingerprints. We are confident you will find a perfect fit for your business or establishment. If at any time you wish to contact us with a question or offer help with a purchase, our contact center is here to help.