Trade Show Displays - Build Your Booth with Table Skirts, Banners, Furniture & More
Booths & Backdrops
Shop Trade Show Booths by Size
---
RENT, SAVE, RELAX
Modular custom printed trade show displays, delivered.
---
Table Displays
---

---
Inside the Booth
---
Custom Printed Messaging
---
Show Essentials
---
Do You Want to be A #TradeShowOff?
Check out how our customers are standing out at shows, both big and small, across the nation. Upload an image with a product review or tag us on social media using #TradeShowOff for a chance to show off your Displays2go Trade Show setup.
---
Trade Show Booth Displays and Supplies for Building Successful Exhibit Booths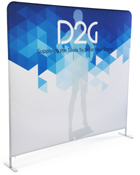 Looking to transform your exhibit booth into a traffic-stopping destination? Trade show displays from Displays2go are designed to help turn heads and attract attention at any expo or promotional event. A great and successful booth design oozes professionalism and is an instant draw for attendees. When it comes to promoting your brand, we believe there's always room to grow.
Having the right trade show booth displays and signs can make a huge difference. They need to highlight what's unique about your business, making information easy to understand and visually appealing, and leave an impression on attendees. From commanding backdrops to trendy furniture to eye-catching banners to quality accessories, we carry all the trade show supplies to create the best expo booth setup.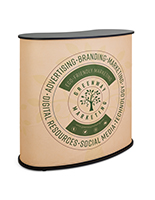 Exhibit Booth Essentials - available in a variety of styles, including truss systems, pop up booth displays, backwalls, and more.
Signs and Banners - for promoting and advertising your business and/or products. Add vivid custom graphics to almost any sign display, including ceiling banners, tabletop displays, flags, banner stands, and more.
Booth Furniture & Décor - for designing an inviting booth setup that naturally attracts customers. Shop for exhibit booth furniture including seating, tables, kiosks and counters, flooring, and portable literature stands.
Accessories & Supplies - to take your event setup to the next level, including prize games, promotional merchandise, table covers, and more.
Equipment - for making sure your transportation and event setup goes as smoothly as possible, including shipping cases, exhibit booth lighting, TV stands, and AV equipment.
Keeping up with the competition in the expo and convention industry is no easy task. At Displays2go, we strive to make trade show exhibiting as easy as possible. From trade show banners and signage to engaging digital technology, all of our trade show display products are designed with event exhibitors in mind with features like: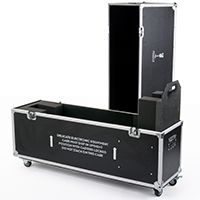 Portability - Exhibitors are always on the go. Our trade show booth displays are lightweight, easy to assemble, and portable. Most of our products assemble in minutes and without any extra tools. Set up and breakdown your booth faster, getting you from convention to convention with less hassle.
Customization - Whether you're setting up a vendor table for a conference or a 10 x 10 exhibit display booth at a large trade expo, we offer custom printed trade show displays for many of our products. Make a statement with a custom pop up backwall or a branded table cover or a customized banner stand.
Budget Friendly - We believe that can you still get cheap trade show displays that are also high quality. With our expansive and well priced inventory, there's an exhibit display option for every budget.
Displays2go is a one-stop shop for all your trade show needs, making it easy and convenient to find exactly what you need to be fully prepared for any promotional event. Mix and match to create the perfect exhibit that reflects your brand and lets you stand out from the competition.