Portable Literature Stands for Promotional Product Handouts, Magazines, and Brochures
Shop All Styles
---
---
---
---
---
---
---
---
---
---
---
---
---
---
---
---
---
---
---
---
---
---
---
---
---
---
---
---
---
---
---
---
---
---
---
---
---
Collapsible or Rolling Literature Stands Increase Portability Between Expos, Departments, and Conferences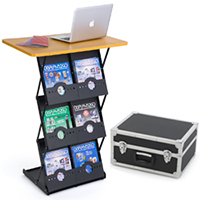 Are you looking for a hassle-free way to transport printed media between trade shows, promotional events, and other high-traffic areas? Our portable literature stands include folding and rolling designs intended to place informational hand-outs such as magazines, brochures, and product catalogs directly in front of your customer, no matter if the venue is on, or off-site.These mobile pamphlet racks keep printed material well organized and accessible, yet are lightweight, and set up or break down in seconds so you can get the show on the road. Use portable literature stands to provide clients with takeaway product information packets so that even if they leave without making a purchase, they have something to review and contact you for at a later date. Many exhibitors take advantage of these racks in lieu of an additional salesperson, allowing potential customers to read about your company before being helped, or to take a brochure with them if they do not have time to listen to your full demonstration. Collapsible portable literature stands are compact, lightweight options that will easily fit in our car or work van. On the other hand, rolling magazine racks are great for reorganizing printed promotional material between departments, and many include digital media screens for increased advertisement potential.
What kinds of portable literature stands do we offer?
Folding magazine holders, also known as collapsible brochure racks, break down and set up within seconds. These units are a great addition to your promotional toolkit since they are high-impact on the sales floor yet take up little space while packed in storage.
Rolling pamphlet and flyer displays are ideal for cross-departmental campaigns, or for retail locations that share similar fixtures between various sections of the store. Locking casters help each fixture remain firmly in place while in use, and unlock to easily glide promotional material to a new location.
Literature stands with digital signage transform otherwise traditional racks into advertising hubs, attracting attention with audiovisual content while providing supplemental information to your customer — a real one-two punch for your marketing team.
Take advantage of these literature stands to ensure that there are no missed opportunities, especially when a deal isn't closed. When it comes to big purchases many customers avoid making impulse decisions, so it is important to provide them with ample information to review on their own time, increasing return business significantly. All of these literature stands are mobile and come in a variety of styles to fit your marketing needs, decor, or special interest. Despite their portability, each travel-friendly magazine rack is rugged and designed to stand up to rigorous event schedules. Whether you need to distribute printed material or outfit your booth, we carry a large catalog of trade show essentials to equip your exhibit with the tools necessary to thrive. Displays2go offers an array of products ranging from show lighting, custom signage, seating, and even all-in-one booth bundles.