Wood Poster Stands in Black, Mahogany, Oak, and Cherry Finishes
We're sorry, but no items matched your search query.
---
Floor Standing Wooden Poster Displays in Multiple Finishes and Styles
Looking for an upscale eye-catching signage solution? Our wood poster stands have a sleek and attractive build. These 22" x 28" floor standing graphics are a great option if you're someone who needs supplemental advertising and lacks the space. Place wood poster stands next to point of purchase displays to draw customers to your merchandise or showcase them outside of a trade show booth to catch the attention of passersby. This freestanding signage is available in a variety of finishes, and some even with supplemental accessories to help get your message across to your patrons. Browse our selection of wood poster stands to find one best suited for your business!
What are some of the features and style options of freestanding wooden signage?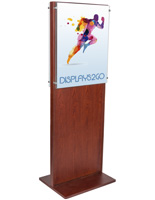 Our 22" x 28" wood poster stands come in a variety of elegant and distinctive finishes including red mahogany, cherry, black, oak, and walnut. With the multitude of shades available, it makes it possible for users to pick out the best option that suits their space and décor.
The freestanding signage comes with standard 22" x 28" poster holders or with built-in literature pockets as a supplemental advertising solution. Some pockets are even adjustable! With this extra accessory, you can attract clients from afar to take a brochure or flyer promoting your goods or services. We have models available with 4,5, and 10 pockets.
Totem-style units that resemble a flat panel are available. Signs with a pole-style base are also another option. These are different in design but still, have a commanding presence wherever they're placed. Choosing either style will be sure to enhance your advertising arsenal and get your message across to passersby.
Choose from double-sided options, ones with a convex design, or models with standoffs that have a 3-dimensional effect on your signage. These all have a top loading or snap-open slot for showcasing your graphics with ease.
Where can you find these freestanding wooden sign holders? Try anywhere where a message needs to be seen. This can be in lobbies, banks, retail stores, trade shows, or mall ways — especially when you choose a model with literature pockets. Use a sign holder to display your latest sale or promotion. Does your store offer a credit card or frequent buyer program? Poster displays with brochure racks are the ideal salesman to attract new clients to your programs. These graphic displays with leaflet pockets are best for use in environments that showcase many different products and services. Customers can view your display and take supplemental information about what they need. Each combination graphics frame and flyer display is a winning one that can't be beaten.
In addition to these upscale wooden poster stands, we have hundreds of acrylic and metal sign holders with literature pockets for a variety of common media sizes. Shop our full selection of graphic holders and displays from Displays2go to enhance your business and build your brand!